At home with Little Bird's Megan May
She who eats raw lives well. An afternoon with Little Bird Unbakery's Megan May brings out the believer in Sophie Burton.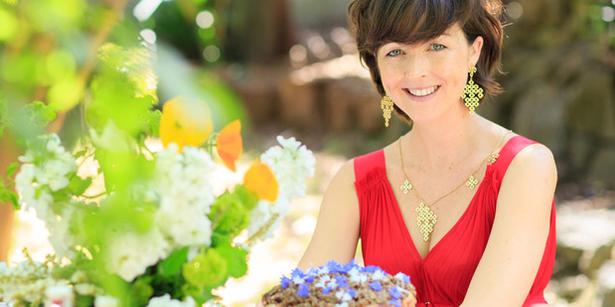 Wednesday Oct. 22, 2014
There are certain things one expects of a raw food advocate. A clear visage, shiny hair, the vitality of a preschooler, and white teeth that don't owe their sparkle to dentist potions. Reassuringly, Megan May ticks all of the above, a bright-eyed example of her vocation as founder of Little Bird Organics.
May first attracted attention with her line of raw snacks, namely grawnola and macaroons. She was initially invited to stock her products with Ceres and Huckleberry farms after selling her wares at a talk David Wolfe (the American raw food pioneer) was giving in Auckland.
The opening of the peculiar sounding Unbakery cafe in Kingsland followed, and a year later May and her partner Jeremy Bennett opened a large space on Ponsonby's Summer St.
Credited as being at the forefront of raw food in New Zealand, May began her adventure when the concept of having nut milk with sprouted cereal had virtually no following. It was healthy hippie fodder that didn't fit the mould of a nutritional food pyramid.
Upon my arrival at her Mt Eden home, May is fossicking in the kitchen. She is sprinkling cartons of freshly shucked pomegranate seeds into a watermelon salad, chopping herbs and topping an unbaked two-tier berry and apple crumble cake with edible flowers. So far, so very raw.
It's surprisingly peaceful, too. There's no oven hum, frypan hiss or general clatter. You can literally hear the birds. It's glorious, although the sight of a blender, a state-of-the-art grunt of an appliance sitting behind May, doesn't escape my view.
All this talk of noise (or lack thereof), prompts May to mention how they snapped up this suburban bungalow after growing weary of living above Unbakery's raw food version of Willy Wonka's factory.
"We got quite desperate to move. We just had to get some privacy, some space from our day-to-day life. We had staff entering the apartment at the start of a 6am shift to find a missing appliance, or an order form, that kind of thing."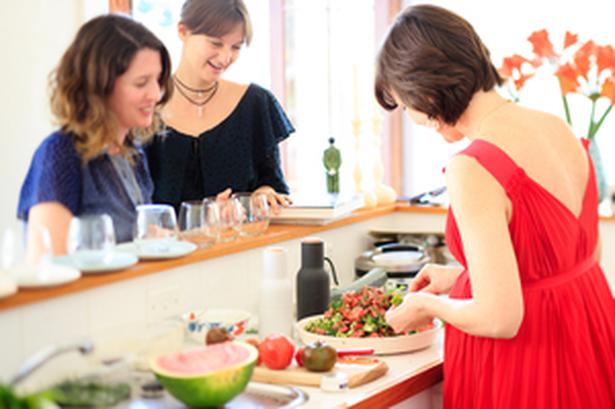 No doubt the move was a wise one. May is expecting the couple's first child any day now, and the fact that the abode happens to be an all-day sun trap makes it feel more like a country escape, despite its proximity to Mt Eden Rd.
Raised high with balcony views through the trees, there's a rambling terraced garden and saltwater pool below, reached via stone paths that jut off French doors. Since moving in over a year ago, May's resolution was to take an early morning plunge in the pool each day, yet she admits her growing bump has made it tricky to manoeuvre.
"The idea of submerging myself in cold water during winter just didn't appeal," laughs May.
A feast of small delicacies is ferried down to a corner of the garden, where May is hosting an impromptu al-fresco lunch for friends. It's enclosed, with a leafy overhang from the trees, and all feels suitably serene aside from Molly the dog spinning circles in the grass.
Noted is the lack of haste to sit down. Raw foodism states that food isn't heated above 46C, the bonus being that dishes don't have the propensity to go cold. The only concern is whether or not the cake will hold, a product of refrigeration rather than an oven.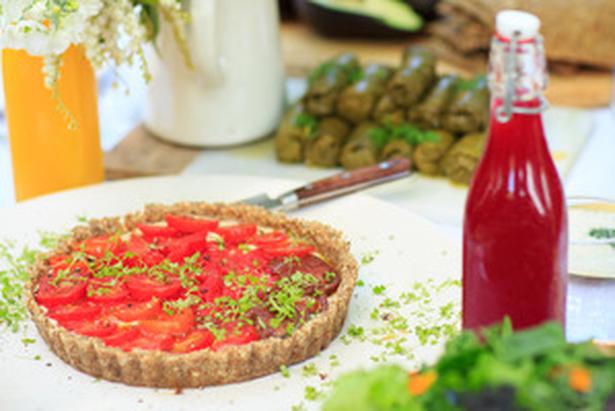 Lunch conversation flows yet, instead of debating the merits of a new summer rose, table talk centres on the bottles of kombucha, a blood-coloured beet version and a lemongrass and kaffir lime one, home-made by Little Bird Unbakery head chef Xander.
Slices of a savoury tart are passed around, and we learn that the crust is made mostly from hazelnuts, while the filling is nut butter, topped with sliced heirloom tomatoes.
I take a pinch of salt, and talk then turns to this condiment, someone claiming that it smells like the sea. May informs us of its name: a Hawaiian red alaea unrefined salt that has been mixed with red alae volcanic clay.
It feels so easy to peg the food we're eating as a fashion fad, a cuisine that serves an anxious, health-conscious generation.
Despite being host to a brain that harbours such cynicism, I wolfed lunch down with gusto. It was a delicious meal first, raw second. And most of the dishes came straight from a new recipe book of raw magic compiled by May and Xander, who believe their cuisine can appeal to all types of eaters.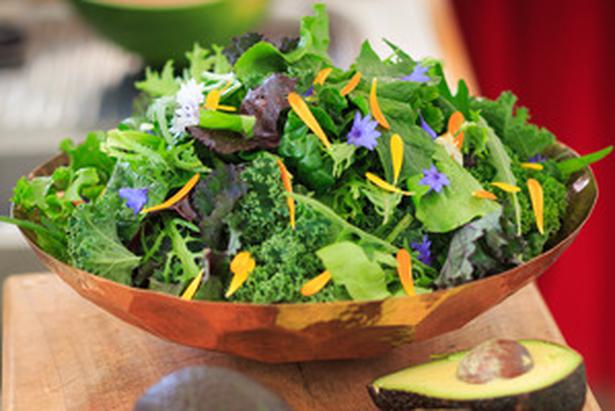 "You can make raw food easily without much at all," says May. "There is an assumption that to follow a raw diet you need all these gadgets, but plenty is done with just a good blender and refrigeration. We follow many unwritten food rules just like traditional cooks. Lemon, salt and herbs are staples in a raw kitchen. The same principles apply."
For those who want to explore raw cuisine, there is no need to run full tilt into a world of seeded bread, nut butters and sauerkraut.
May insists you simply need to develop a love for plants and start slow, incorporating alternatives rather than proclaiming 100 per cent allegiance to the raw way.
It's a chance to gradually swap this for that, enjoying every healthy second of it while you do. Now, who couldn't relate to that?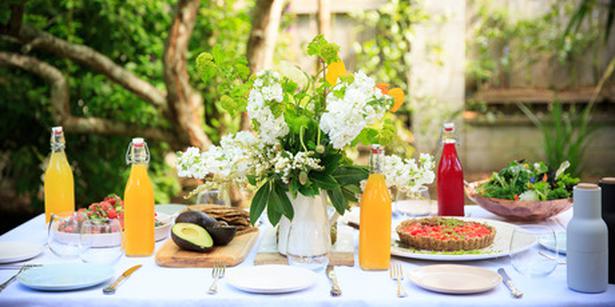 Megan May's al-fresco lunch menu
• Tomato tart with basil and herbed macadamia and cashew cream
• Watermelon and pomegranate tabbouleh
• Mediterranean dolmas and cashew tzatziki
• Blueberry and apple crumble cake
• Foraged salad with edible flowers and garlic tahini dressing
• Home-made kaffir lime kombucha
Click here for Megan May's blueberry and apple crumble cake recipe.

• The Unbakery: Raw Organic Goodness by Megan May is out now. Beatnik Publishing. $60.
Share this: