Legendary Chef Peter Gordon Returns To New Zealand Amid Changing Times
Having closed his London restaurants and parted ways with The Sugar Club in Auckland, the top chef talks to Kim Knight about embarking on a new era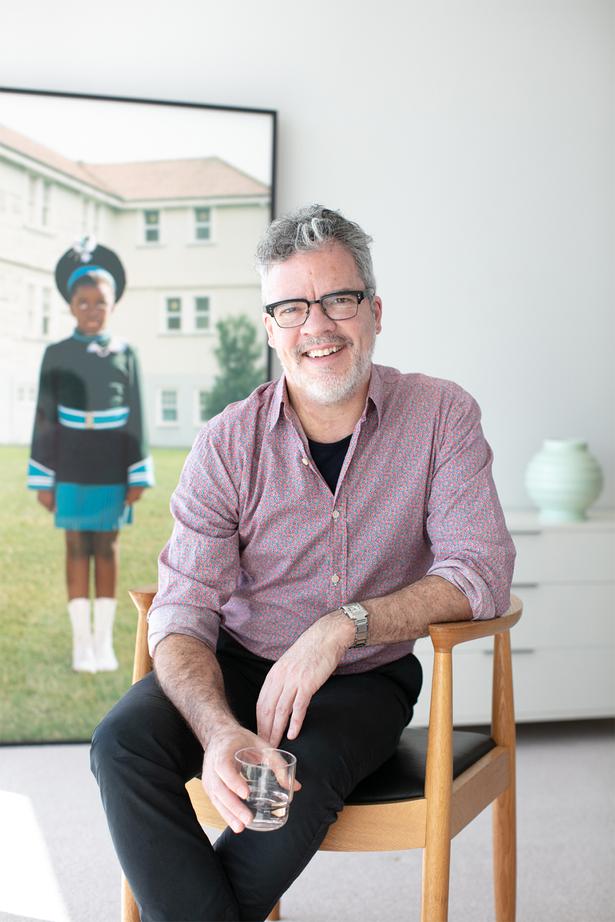 Saturday Nov. 14, 2020
The art is on the floor instead of the wall and, somewhere in a shipping container bound for Auckland, are at least seven odd socks.
Peter Gordon's homecoming is a work in progress. New apartment (under construction). New business (still signing some leases). New haircut?
"I haven't exposed the burns as much as this, ever," says the world-famous chef.
"I'm actually really grateful to the hairdresser, who just didn't listen to a word I said. Maybe now, it's just really time to let the scars hang out."
Gordon was a little kid when he stood on a stool to "help" his dad cook fish and chips. He lost his balance and grabbed at a pot of boiling beef dripping.
"I spent quite a lot of time over the next few years in hospital, eventually having a skin graft," he wrote in his book A Culinary Journey.
"But I have to say I have never been put off cooking - and I have a macabre love of deep-fried foods."
His restaurants include four iterations of The Sugar Club, London's The Providores and Tapa Room, London and Auckland's Dine by Peter Gordon and Bellota.
He's been called the Godfather of Fusion since forever and his reputation is such that when he invites others to take part in fundraising dinners, even Alain Ducasse says yes ($14.2 million and counting for the leukemia charities he began supporting when his sister was diagnosed with blood cancer and he became a donor).
For three decades, Gordon has had a foot in two countries.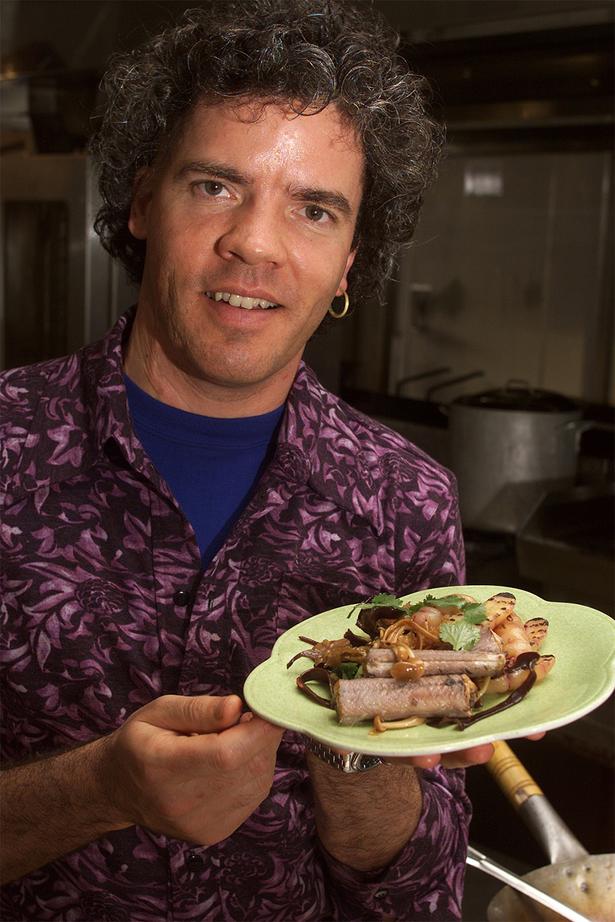 His career has taken him around the world, but this year, London's loss is Auckland's permanent gain. Gordon has sold up and come home.
The 57-year-old is literally, and metaphorically, ready for his close-up.
He's planning to take te reo lessons, to embark on marae-based projects, and, with his Kiwi partner Alastair Carruthers, set up a social enterprise called Homeland, scheduled to open in November.
Part cooking school, part innovation hub and storefront, Gordon imagines a place where families might learn to cook roasts and migrant communities will share their cuisines.
New Zealand producers - the growers and makers hit hard by a global pandemic - will be front and centre. Because while this is an idea first conceived pre-Covid, it was refined in a locked-down Auckland.
Gordon had been speaking to venison suppliers who couldn't sell their meat because it's the stuff people eat at restaurants, and the restaurants were closed.
He realised how many people don't really know how to cook clams or green shell mussels and he discovered that, in a tiny town called Nightcaps in the deepest south, someone was making excellent paneer.
At the same time, "We were all cooking at home, and we realised there were a lot of people who didn't have a lot of cooking skills. I've done a lot of fancy classes where you have 15 ingredients and you make some incredible thing, but wouldn't it be nice to have something almost at home economics level and do things with families where they could all come together one day and you make a fish pie and you do a pavlova or something?
"It's all very well that people think you shouldn't go and buy Kentucky Fried Chicken, but actually it's really cheap and maybe you don't have a saucepan and the oven's broken and you don't have a knife or a chopping board and the cost of all that electricity . . .
READ: Top Chef Michael Meredith Is Back With An Exciting New Venture
"A lot of the cooking we'll do at Homeland will be the sorts of things our grandparents did. What to do with a knuckle of ham to feed 10 people. Good baking."
Peter William Gordon was born in Whanganui, a self-described "contemporary cross-cultural mix of ancient Scottish whaler and Maori 'princess'". He is Ngati Kahungunu and Ngai Tahu and the youngest of four.
By the time he was 8, his whanau had expanded — eight kids and a new step mum and stepdad. When his parents first divorced, he and his sister Tracey lived with their paternal grandmother, Molly Gordon. She looms large in his food memories.
"She'd make you change your shirt for dinner, and the dessert would always come out on the lovely old tea trolley. You'd hear the wheels clatter across the kitchen floor and then silence. Adults would talk and children would not say anything.
"Often there would be lovely jellies that she'd set in those lovely thin moulds. I've got some of hers in the shipping container. Sometimes she'd tip the jelly out, and sometimes she'd just put on a bit of top milk — the cream — and eat it out of the mould. I still remember the amazing sound of the teaspoon scraping across the aluminium."
What are the exact moments that shape a person's palate? The moments that feed - and define - their hunger?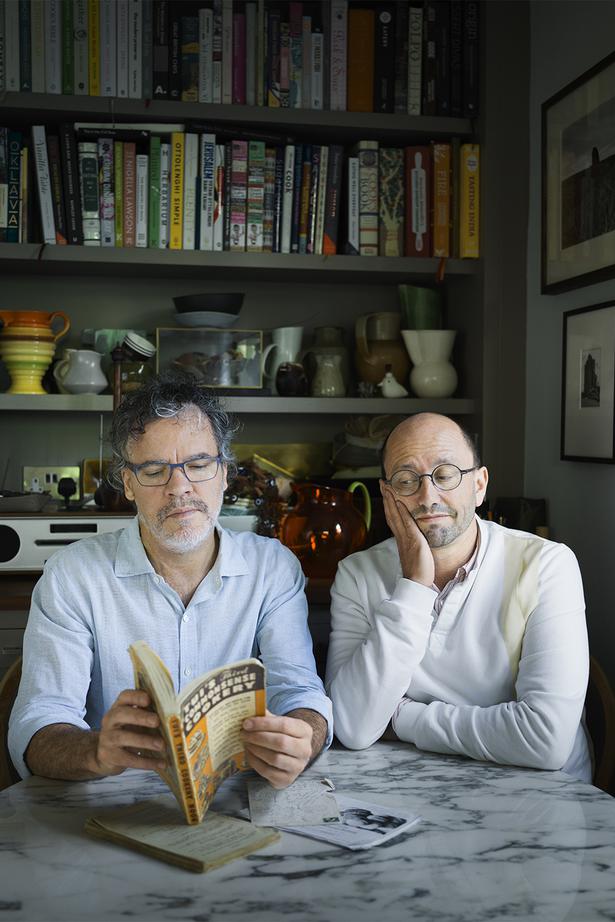 Gordon left New Zealand via an 18th birthday present air ticket to Australia.
He'd planned to become a winemaker. Waiting restaurant tables in Melbourne he realised he'd rather be in the kitchen.
He enrolled in Catering College at the William Angliss Institute, but his food education was happening outside the classroom in Melbourne's distinct neighbourhoods.
"Italian, Greek, Lebanese, Vietnamese — there was this moment, when I thought 'these are whole communities with their own food practices'. Northern Chinese and Southern Chinese was not the Chinese food we had in Whanganui, spaghetti was a dried thing rather than out of a can with chipolatas. Discovering the avocado and the cappuccino . . . And then meeting people from foreign countries, like a country called 'Morocco', which I'd never heard of."
Sure, he'd eaten tofu before. Firm and pale yellow, right? At a Japanese restaurant, he was served fresh, silken tofu with grated daikon and shaved bonito.
"I can still taste it. The texture and the flavour and the purity and the cleanliness."
Back in the classroom, his tutors said, "Japanese don't cook, they just eat raw fish," and continued to focus solely on the "grand" cuisines of Europe. It reminded him, he says, of intermediate school when he was enrolled to learn Esperanto, the so-called universal language.
"We were told 'this is a combination of all these great languages from around the world'. And I remember saying, 'What are the Chinese words? What are the Indian words?' And I remember then, thinking, it's not really an amalgamation of all sorts of stuff - it's the white people's languages."
Gordon graduated from Catering College as the top theory student. His prize was a copy of Larousse Gastronomique, the French-centric encyclopedia of gastronomy. He gave it to a friend in disgust ("It represented everything I hated about my apprenticeship!") but concedes that, more recently, he was sent a revised edition "and I opened it up and thought, 'Oh yeah, it's got some good stuff' . . . it's just not . . . you know, there are more interesting languages and more interesting cuisines.
The Abridged History of Peter Gordon includes the trip to Indonesia in his early 20s that blows his culinary horizons "sky-high".
Further, formative travel through Southeast Asia. A stint at a private members' club in Mayfair where the artist Lucian Freud buys him a whiskey and diners include Brad Pitt and Antonio Banderas.
He opens restaurants in Wellington, Auckland and London. He cooks for the rich, the famous and former American President Barack Obama.
Gordon is the go-to chef for Brand NZ, giving command performances on any given overseas stage. One day he's cooking for an event in San Francisco.
He watches a huge waka pass under the Golden Gate Bridge and tells film-maker Hinewehi Mohi that he's Ngati Kahungunu.
He rhymes the "hung" with "sung" and she gives it to him again, properly — "who-gnu". And then she says, "Okay, you're my cuz and I'm going to teach you how to speak better and you better learn more."
Gordon: "And I said, 'Oh, thank God'."
READ: Chef Monique Fiso's New Book Is A Love Letter To Maori Flavours
On the television show Native Kitchen (which he presented and executive-produced) Gordon mentored aspiring young Maori chefs on a 10-day culinary boot camp.
Earlier, he'd starred in Fusion Feasts, travelling Aotearoa, learning about M?ori culture, and then working with locals to cook the show's titular feast. At Orakei Marae he says, his kina dip with cream cheese and a squeeze of citrus, reduced a woman to tears.
"It was really nice, but she said, 'You've ruined our kai!' I said, 'You need to know kina are not just from New Zealand — they're not called kina anywhere else, but you get them in France and Mexico and Italy, and this is just one way of doing them.' And then one of the aunties said, 'Oh my God, if I'd known this is what kina could taste like … I'm Maori and I'm supposed to love them, but they;re horrible food!"
Growing up, Gordon never experienced marae life. At high school, he learned French and was told te reo was pointless because no one was ever going to speak it.
"I don't remember any obvious racism. Although, obviously, if we're not learning te reo because it's a 'dead language'. So I'm coming to my Maori culture now, and I'm 57. I'm coming to it later in life."
And Maori food?
"So often it's just been hangi, and often in those steam kettles that I think are a terrible invention. Like champagne can only come from Champagne, hangi should only be allowed to come from a pit that's started with a fire!
"Anyone should be able to do hangi, in the same way anyone can do sushi or that we wouldn't say only English people can do a roast lamb, but I think the downfall of hango is that often, it's just not done well."
He might, he says, try and improve that steam-cooked version at Homeland. But he'll also be looking to New Zealand's contemporary developments.
Things like locally grown saffron and pine nuts, and "the fact that we can buy quinoa from Taihape and black garlic from down in Marlborough and salt from numerous places. I'll continue at home to cook with fish sauce from Thailand and I'll continue to drink wines that aren't all from New Zealand, but the purpose of Homeland is to really focus on New Zealand."
This country's first commercial pine nut plantation is a little over two decades old. Quinoa trials only began in 2014. Even five years ago, this venture might not have been possible?
Gordon: "I probably wouldn't have conceived of this before I got on the plane in March!"
This story has gotten ahead of itself. Gordon set his new life in motion in July last year when, after 18 years, he and Michael McGrath closed London's The Providores and Tapa Room.
Covid-19 was not even in the lexicon but business was declining, Brexit had happened, food costs were increasing and so was the competition. It was time to do something different.
"Al was living in London, and we were busy with stuff and we were thinking we could create a food embassy in the United Kingdom . . . sell New Zealand wine, salt, peanut butter, whatever. And then we closed The Providores, and it was really interesting. Over the next six to eight weeks, I began to think, 'What's my purpose? What's the point? Why am I still here in London?'
"I was beginning to think about stuff that could be useful. Something to work towards in the future. And I thought, 'Actually, maybe the future's now. Maybe it's time'."
He had imagined one more Northern Hemisphere summer, enough time to sell his London house and say some proper goodbyes. But by February, the mood had shifted. A neighbour who worked in health warned things were not looking good.
Carruthers made the decision to leave and urged Gordon to follow sooner than planned. The world was starting to spin very fast.
"I put my house on the market on Monday and we had a phone call on the Wednesday and Al said 'just book a ticket, get on that plane'. . . I was selecting my seats and I got pushed off the site. I went back in three minutes later and the fares had gone up about £1200 and I thought f***, either the logarithms are working or there's an exodus. So I just booked any flight I could."
On the Friday, Gordon accepted an offer on his house. On the Sunday, he boarded a plane with 40kg of luggage. His flight was the last allowed through Singapore before it closed to transit passengers. Gordon arrived in Auckland on March 24. The next day, New Zealand entered total lockdown.
"I was mentally prepared to be here in August. And this was March."
He shakes his head. "In hindsight . . ." The world is still spinning, but in the relative calm of New Zealand, the fridge is full of his boyfriend's first-ever marmalade (lemon, mandarin and yuzu), there is a bunch of bay leaves drying in the fruit bowl and the floor plans for Homeland are piled on the kitchen table.
Gordon's SkyCity Auckland tapas restaurant Bellota was not re-opened post-lockdown and, earlier this month, he left The Sugar Cub.
"It's me," he says, in the temporary apartment with the view of the permanent apartment he and Al hope to move into in February. "I'm changing."
Gordon's first head chef position was in 1986, at the very first Sugar Club in Wellington.
There's a handwritten menu reproduced from back in the day, in the book Dining Out: A History of the Restaurant in New Zealand.
Entrees included sugar-cured fish salad with wasabi and miso dressing and a two-egg omelette that came with avocado and smoked eel. There was lemongrass, coconut cream and "gado gado" required quote marks.
In a city where critic du jour Michael Guy recommended the filet de boeuf at Pierres, Gordon was a breath of coriander-scented air.
In London, things got even more radical. He won some awards. He was looking for a label that better described his food than Modern British or Pacific Rim. An American chef was using the word "fusion". That, thought Gordon, was the best fit.
"It's a label that, maybe in hindsight, it would have been nice not to have had," he says. "Because a lot of people have gone 'oh, it's con-fusion'."
Gordon likes to point out that England's Worcestershire sauce contains tamarind and that without fusion Italians wouldn't have polenta, because corn and maize came from the Americas, as did the chillies and peanuts that infuse Thai cuisine.
Feijoa and tamarillo are New Zealand staples, but they are as South American as the passionfruit pulped on our pavlova.
One of the greatest fusion dishes he's eaten, he says, was Marco Pierre White's foie gras with mango. He knows that people will argue; that it will be described as "Modern French".
"But you don't grow mangoes in France . . . I don't know, I'll probably die happy that I was part of the debate. It has been interesting, you do get people who say fusion food is ridiculous and it's like, 'What the f*** are you talking about?' Of course there is bad fusion food. But the cuisine where I've had the most worst food? I've had such terrible meals in France . . . I've had more amazing meals in Malaysia and Turkey and Japan than I have in France."
If that sounds like a rant, it isn't. His tone is more bemused than bombastic; he speaks with the gentle, measured clip of confidence — not the rock-star arrogance associated with many modern chefs.
"I think I came from a really loving family and I don't have a big ego. I've got an ego, but I don't have . . . I don't ever see that I would f*** over everyone else for my own benefit. A lot of those chefs in London, and there are chefs here too, I've been on trips in private jets to Champagne and Spain and they're lovely, and then you see them in another kitchen and it's like a different person. I've never got that. I've always just been, 'Hello, I'm from New Zealand. Can I help you?'"
Once, he says to be a New Zealander in the United Kingdom, you were probably a schoolteacher. In Australia, you were a second-class citizen.
"Today, if the world was to say what is it to be a New Zealander, the answer is probably 'really lucky'. Under (Prime Minister Jacinda Ardern's) watch, to be a New Zealander is probably to be caring, to be inclusive — all the things I think we are anyway. We are an admired nation of people."
In international food circles, Gordon is as famous as our lamb racks or our manuka honey. Mention "New Zealand" to the likes of Rick Stein or Jamie Oliver, and he is the chef they reference.
Here's Oliver, for example, back in 2015: "He's still gorgeous and still clever and still a legend, and I'm lucky enough to see him every now and again, and I think he likes me, which makes me feel happy." (That's a "yes" by the way. Gordon's electronic diary recently reminded him he'd made pre-Covid plans to go to lunch with Oliver and another darling of the Kiwi kitchen, Nadia Lim.)
Throughout this interview, Gordon's partner, Alastair Carruthers, has been quietly working in another room.
Now, the career chief executive and chairperson (law firms, arts and cultural organisations and coffee companies) has something to say.
"He's just too modest. There isn't a single food establishment in the world that we would go into where the kitchen doesn't immediately go 'whoa' …"
Once, says Carruthers, they went to a Lady Gaga concert. They were in the mosh pit but missed the moment when a dancer whacked the singer in the head with a pole, "because somebody was asking Peter about their mayonnaise splitting!"
They've been a couple since 2011, learning to live with each other's respective interests in polenta and Wagner and discovering (what are the odds?) that they have both collected Poole ceramics since teenagehood.
They swim together at the Tepid Baths and, afterwards, eat rice bubble-studded sushi from a sushi train restaurant.
During lockdown, they competed in a social media bacon and egg pie challenge with friends from around the world.
Gordon: "People thought Al's pie was much nicer than mine . . . "
It has been a decade since Viva last sat down with Gordon for a comprehensive interview.
Chef Chats: Get To Know Buko Pop-Up's William Mordido
He was home in Auckland at the time, preparing to launch the winter menu at Dine.
He approved of a black bean sauce drizzled around a plate of scallops but wanted to know why the rice in the tofu cannelloni had been popped.
Back then, he told us, "There's a brand out there called 'Peter Gordon' and I know that sounds all-American and new-age but I need to capitalise on that. No doubt in 10 years, I won't be in the kitchen much at all, because I'll be 57."
Really? Gordon may have left his restaurant kitchens, but check his Instagram feed.
It features a multi-course "Homeland" dinner cooked across two nights at Auckland's Northern Club.
The main was a shepherd's pie — slow roast lamb shoulder, and braised mince. Cloves, cinnamon and tomatoes. A creamy potato gratin topping.
"Six courses. A team I'd never worked with, in a kitchen I'd never worked in, and I just loved it. It was chaos. All these boxes of vegetables from the marae, stuff everywhere . . . I am happy to say that prediction from 10 years ago was completely wrong. What I know I love is being hands-on and what I know I enjoy is creating stuff and cooking."
- Viva Volume One
Share this: