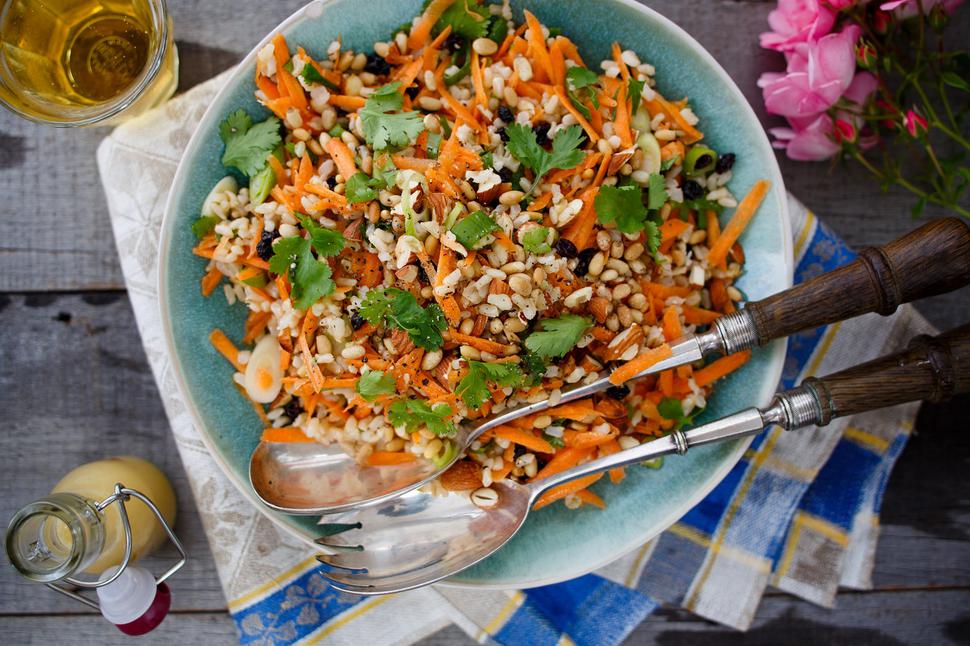 Vegetarian Salad Recipes That Are Anything But Boring
No meat? No worries. Try these fresh salad ideas for any occasion
Monday Nov. 19, 2018
Carrot, Nut & Currant Brown Rice Salad
This versatile salad tastes equally delicious alongside a variety of dishes. Pair with your favourite barbecue staples, enjoy as a wholesome lunch or serve alongside a spicy curry for a fresh kick.
Lemony Pasta Salad Recipe with Rocket
Prep this salad for your next bring-a-plate occasion and you're sure to be heading home empty-handed. The simple combination of lemon, pasta, rocket and parmesan is a winner.
Stunning Strawberry Salad With Basil & Greek Yoghurt
This strawberry salad may sound a little quirky, but trust us — it's a delicious addition to any table. It's simply beautiful served over Greek or coconut yoghurt, and you'll feel beautiful eating it, too.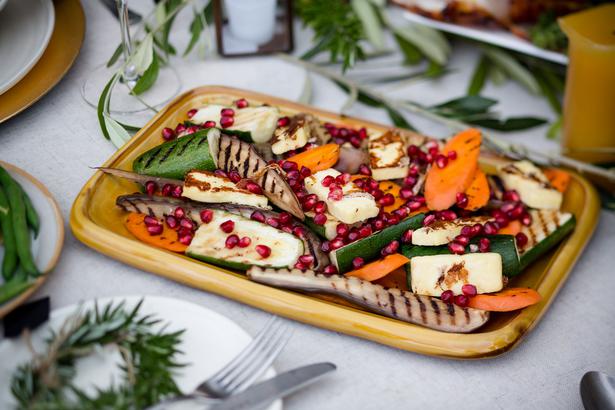 Halloumi & Chargrilled Vegetable Salad 
A chargrilled vegetable salad is a wonderful addition to any table. If you can, grill the vegetables on a barbecue earlier in the day to allow the flavours to infuse, then cook the halloumi just before serving so it's wonderfully warm and stretchy.
Roasted Cauliflower & Couscous Salad With Tahini Dressing
This budget-friendly salad is tasty enough to enjoy on its own, or goes great with any leftovers you may have. It makes an equally delicious office lunch or dinner sidekick.
Citrus Quinoa Salad with Lemon Dressing
An array of sweet, sour and tangy flavours combine in this lively salad. Vegetarians will find it delicious as is, while omnivores can jazz it up with grilled chicken or fish.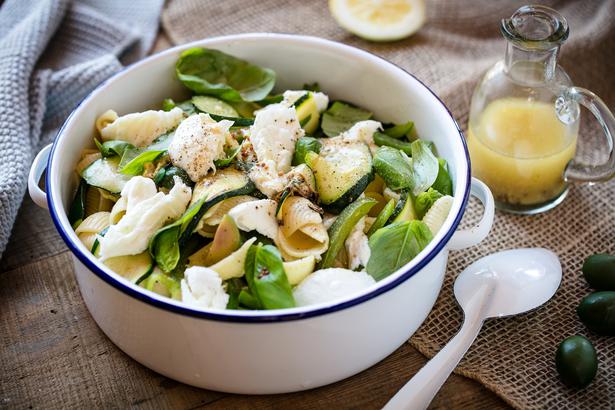 Warm Courgette & Mozzarella Pasta Salad
This pasta salad is a change from the usual saucy numbers, but equally as delicious with the soft, shredded mozzarella folded through. Nobody likes the thought of a pile of dishes at the end of dinner, so this meal is perfect because it takes minimum effort and creates minimal mess.
Petite Kitchen's Massaged Kale Salad with Ricotta & Garlic
This massaged kale and chickpea salad packs a flavour kick and has a fantastic hint of garlic and chilli. Top with beautifully fresh and creamy ricotta, and sprinkle with toasted pecans.
Butter Bean & Cauliflower Salad
You'll love this salad with raw, crunchy cauliflower florets, soft and rich butter beans, and a brilliantly fragrant pesto sauce. Good-quality extra-virgin olive oil makes all the difference here.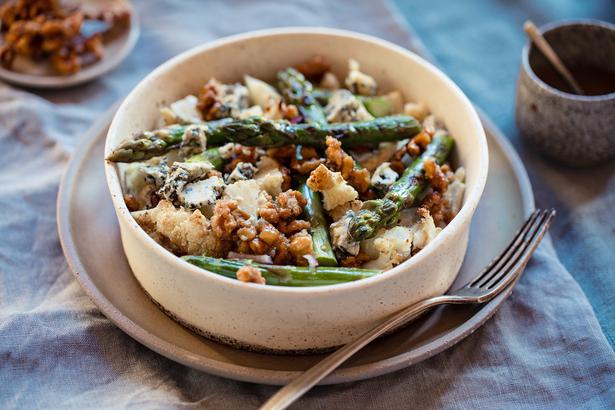 Cauliflower, Asparagus & Blue Cheese Salad With Caramel Walnuts
This mix is simply sensational. Golden roasted cauliflower and asparagus are paired with sharp blue cheese and crunchy caramelised walnuts. Serve with honey mustard dressing and crusty bread.
Mediterranean Freekeh Salad
Get acquainted with the 'in' grain of the moment by throwing it in this Mediterranean-style salad. It's the perfect way to add a deliciously nutty bite to your favourite dishes.
Watermelon & Goat's Cheese Salad
Refresh your summer spread with this classic combination. Sweet, juicy watermelon is complemented perfectly with creamy goat's cheese, mint and zingy lime juice. A must-try on scorching days.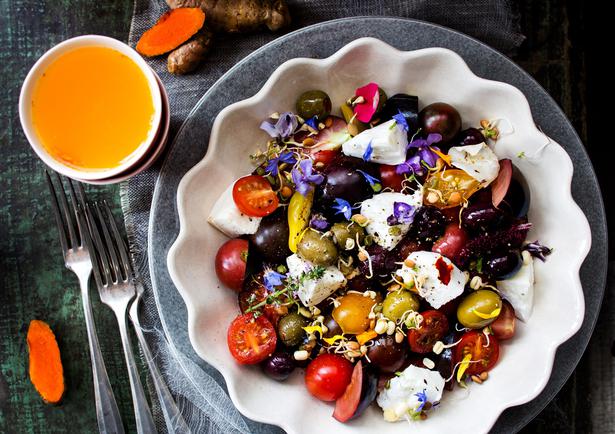 Mixed Tomato & Mozzarella Salad
Jazz up your standard Caprese salad with this recipe, which adds a few simple ingredients to make a subtle change to the usual line-up.
A Healthier Potato Salad
This light and fresh salad is incredibly simple to throw together and has a lovely mix of exciting and zingy flavours. Sweet and juicy red grapes meet salty capers and both work in perfect harmony with the creamy yet slightly tangy minted yoghurt dressing.
Share this: