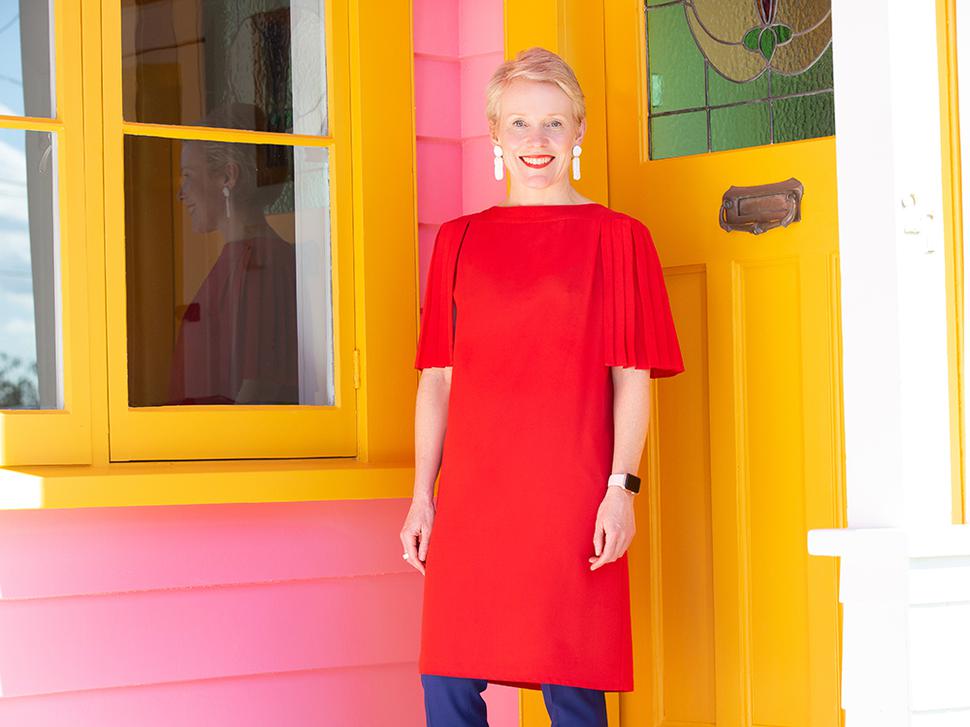 Favourite Things: Architect Roberta Johnson
Architect Roberta Johnson shares her most treasured objects & everyday essentials
Tuesday May 7, 2019
By the time Roberta Johnson has pedalled from Sandringham to Jasmax's Parnell offices — usually arriving in a stylish pop of colour — her day's tasks are generally prioritised.
"I don't consciously set out to make that happen. Biking to and from work provides the opportunity for reflection. I can't recommend it enough," she says.
A natural tendency for organisation, even when on two wheels, is not surprising given her job as Jasmax's architectural briefing specialist. Roberta works with clients to develop the design of future-focused learning and research spaces at large academic and research institutions. She also works closely with the business development and communications teams at Jasmax and has recently dabbled in the art world, forming part of the team putting on this year's Auckland Art Fair, of which Jasmax are the architecture partners.
READ: The Sculptor Exploring The Capability Of Bronze In Her Work
Roberta joined the multidisciplinary design team in 2014 with previous experience in residential and commercial architecture including four years in London working at TP Bennett Architects.
"I just loved the combination of rich history and exposure to the avant-garde that London represented," she says. "It was incredible to be a stone's throw from the City of London and buildings like Sir Christopher Wren's St Paul's Cathedral, and The Tate Modern which at the time had just been refurbished by my heroes, Swiss architects Herzog and de Meuron."
With architect husband Stephen Middleton (they married in London at Westminster Registry Office) they returned in 2001 to have their first child and develop careers back home. Fortunately, Roberta says they share a similar design sense and teamed up to create the addition of a modern kitchen in their home villa.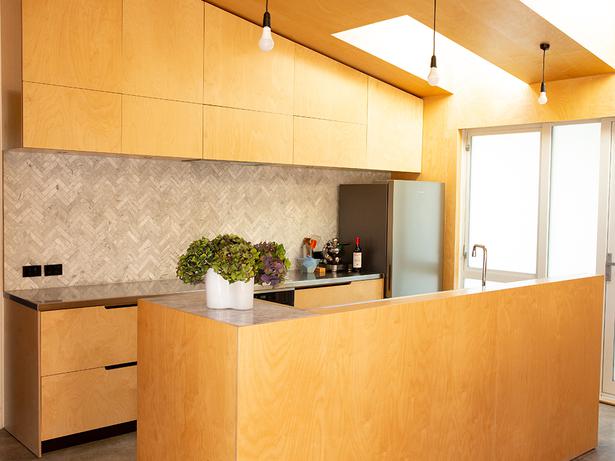 "We share a love of expressive modern architecture with materials used in ways that capture their sculptural potential. We love the Zen feel of the kitchen with its natural materials — birch plywood, soft grey Carrara marble and stainless steel. It incorporates recycled elements such as a science bench and tapware from a dissection lab at the University of Auckland. My husband has discovered one of the benefits of being a project architect can be diverting stuff from the skip."
Roberta remembers being drawn to good design as a young child; her parents commissioned architect Max Edridge to design a house for the family north of Levin, where she grew up entranced by its sun-lit spaces. "With avocado-green sanitary ware, recycled brick walls, cedar cladding, rafter ceilings and brown quarry tiles, the house captured the spirit of the 1970s. The current nostalgia for projects of this time, with renewed interest in New Zealand architects like Claude Megson and John Scott indicates, I believe, a desire to return to more human-centred values in design," she says.
READ: How The Bauhaus Movement Changed New Zealand Design
After an initial short stint at law school, Roberta graduated with top marks from the Auckland University School of Architecture, winning the NZIA Travel Award Prize for best graduating student project nationally and the Senior Prize in Architecture Property and Planning.
"I recognised architecture provided the best opportunity to draw and to think creatively within a discipline that is also grounded in reality. I never looked back," she says.
Prior to Jasmax, Roberta taught architectural design papers at the University of Auckland from 2003 until 2012, keeping connected to the industry while juggling family life and running a small residential design practice. Now, with two teenage sons, she says she enjoys fostering young talents, some of whom end up joining her in the workforce. "It's slightly terrifying hearing what your work colleagues thought of you when they were students . . . I've been told 'Tough, but fair'." In 2013, Roberta also wrote Navigating toward the Future: ASB North Wharf, a self-published book on the ASB North Wharf building for ASB Bank.
READ: Where To Find: Auckland's Art Galleries To Browse
My Favourite Things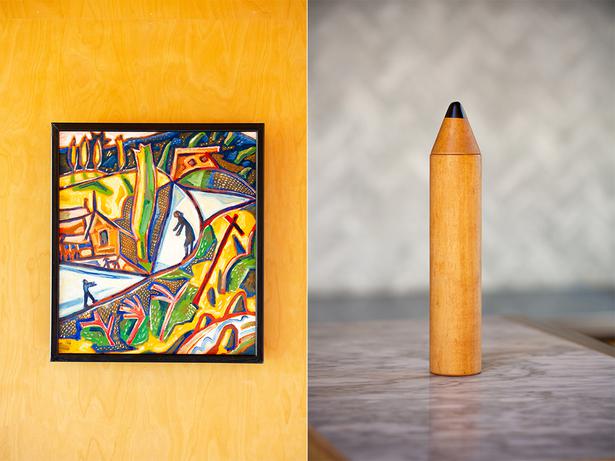 1. Nigel Brown Painting 
This painting was lent to us by my wonderful in-laws many years ago. It's taught me the lesson that great art rewards over time. I love the "end of day" quality of the light that seems to emerge from the thick oil paint.
2. Pencil Tube 
One of my favourite things in the world is a pencil. This tube carries my drawing tools to and from work. I found it in a Salvation Army shop for about $4, and my talented workmate Olivia is the only other person I know who has one. She got hers where it was made — a little craft shop in her grandmother's village in the Dolomites.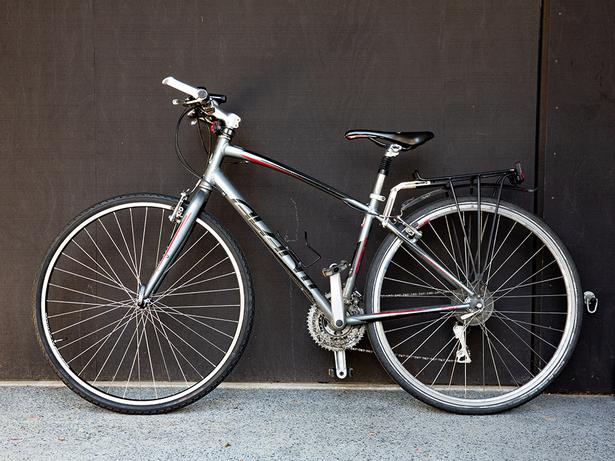 Bike. Photo / Babiche Martens

3. My Bike 
This very practical item gives me a feeling of freedom every time I hop on.

4. Plan for 'The Gallery of Garments and Unease' 
This was part of my fifth-year design project which won the 1995 NZIA Levenes $5000 Travel Award for best final year design in architecture in New Zealand.
I dug it out of the roof when looking for a drawing to contribute to the Centenary of Auckland University School of Architecture Exhibition in 2017. I hadn't seen it for 20 years and it's a bit of a reminder to have dreams.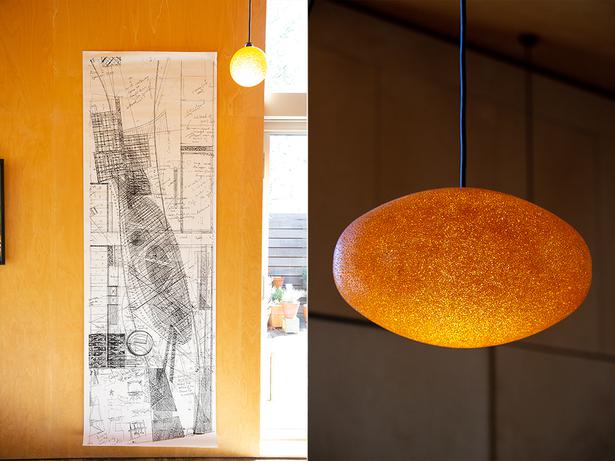 5. UFO Light 
I think this orange shot-fired resin lampshade was made in the 1960s. It was a birthday present from my parents to my husband Stephen and kicked off the only deliberate effort at collecting I have ever made. I scoured Trade Me and second-hand stores up and down the country searching for more. Thanks to eagle-eyed family members and filter searches I now have a sphere in candy pink and a few smaller lemon and gold versions all hanging in the living room.
Share this:
More At Home / Features & Profiles