Artist In Residence: Mixed-Race Identity Politics With Digital Artist Tai Nimo
A deeply personal work underpins the focus for this multi-talent, utilising illustration, stop-motion animation and traditional drawing to tell her story as part of Tautai's Fale-ship residencies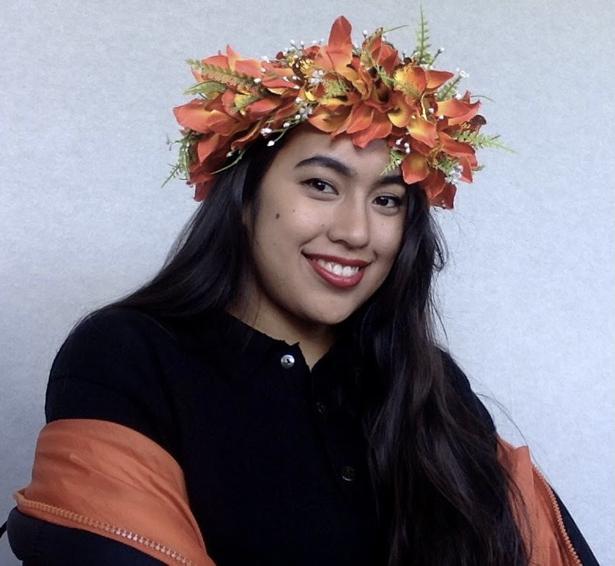 Friday Oct. 22, 2021
As part of our Tautai Fale-ship artist in residence series, we get to meet the 10 artists who have successfully gained the opportunity to partake in this year's Tautai Fale-ship residencies.
The leading Pacific arts organisation officially launched its two-week digital residency this week, responding to global transformation through a localised lens, helping amplify, collaborate with and support the indigenous authorship of Tagata Moana artists in Aotearoa.
Each artist receives a grant of $2000 to support the development of new or existing projects in their own creative centres.
"The Fale-ships form part of a deeper kaupapa to bolster the creative expression of Moana artists during this time of great change," explains Tautai director Courtney Sina Meredith.
"The residencies are about more than platforming exciting talent during lockdown, they are driven by an indigenous determination to re-centre the power dynamic within the wider arts landscape. The celebration of Moana artists creating within their own sacred spaces is as political as it is beautiful. I cannot wait to see what these residencies inspire in the 10 selected artists and within the Tautai community."
ARTIST IN RESIDENCE: The Graceful Moves Of Dancer 'Isope 'Akau'ola
The Tautai Fale-ship Residencies are generously supported by Creative New Zealand and Foundation North.
Our second profile is with Fale-ship recipient Tai Nimo, a Māngere-based digital artist of Tongan, Niuean, German descent on her father's side and Cook Island, American and Pākeha on her mother's side. Inspired by her diverse cultural heritage, Tai creates works that reflect her identity and environment.
For her Fale-ship Residency, the Elam student has created a series of contemporary digital works that utilise self-portraiture as a medium to explore her own complex sense of self and identity. The In Between, a series of four portraits, and Mixed Kid, a pair of stop-motion animation works, are explorations of Tai's lived experience and a call to self-acceptance, both for herself and other "mixed kids".
"Art was always an escape for me and a safe space for me to let out anything and everything I am feeling," says Tai. "The term 'plastic' is something that will always linger with my inner child, thus I created a body of work that reflects me and how I see myself as a mixed kid. By having a passion for my heritage and culture, I'm able to create space for my own experiences, and hopefully inspire other mixed kids to do the same."
As part of Tautai's Fale-ship Residency programme, Tai was supported in producing these new works from her temporary lockdown-base in Tauranga.
What does your Tautai Fale-ship residency mean to you?
The residency was an amazing opportunity for me to create a visual representation of how I saw myself as a mixed-raced kid. For so long, I always felt like an outsider. Growing up, I was always told I was too brown to be white or too white to be brown. Art has always been a safe haven for me, and I'm really grateful to create personal works at such a scale and honored to share my practice with others.
Many people will connect with your work given we are a nation of so many mixed-race people — particularly in our Pasifika communities. What do you hope people will take away from your work?
As most mixed kids would have experienced, the feeling of being othered. The In Between series is how I saw myself in different stages of my identity. I chose to work with bright colours as a way to reject the normality of what we know and see as a skin tone, and create a connection of 'Lunch Box' colours in reference to my inner child.
In saying this, I wanted to create a new perspective for other mixed-race kids, that the trauma of our inner child is still part of us and we can reclaim that part of our life back.
How long did it take for you to work on your residency project from concept to final work?
The Idea of The In Between is something I'm currently exploring at university. So the concept was perfect with making small works within the two-week time frame — the conceptual outcome and subsequently executing the visual presentation from the research that I gathered.
Fashion plays a part in understanding our identity too, and is clearly a medium you also enjoy. What do you love about exploring your own personal style?
For me, what I choose to wear is an extension of myself and my personality. To me, it's the first impression people make of you, so I like to indulge in it.
Illustration is a big part of your practice. What is it about this medium that you love?
It's a medium that can form the formless and for me it's about putting pen to paper and creating whatever I want without limitations. I grew up in a creative family and it was something that was always around, and I just loved drawing, whether it was for school or during a church service (which my mum always told me off for).
We've worked over the years with your sister Aasha who is also a great creative. Tell us about that relationship and how you support each other's creative process.
I have always looked up to Aasha for her sense of direction and her eye for detail. I appreciate being able to confide in her about my artistic interests, we bond over recent works we created, often saying "Oh, that's cool!" It wasn't until our late teenage years that we explored that bond together.
READ: Get To Know The Recipients Of Tautai's Progressive Fale-Ship Residencies
What's the best advice that anyone gave you when it comes to your practice?
The best advice I was given was to create work that I find purpose in and not to be afraid to share it with an audience, because people will come and go. It's about whether or not I'm making art to please others or myself.
You recently were tapped to create an artwork for a campaign supporting awareness around Covid-19 and getting the country to reach its vaccination goals. Tell us how this came about and what your contribution to this campaign meant to you.
A friend of my uncle (who is also an artist) was looking for a Pasifika illustrator to create three works that embraced the connections and afterthoughts of Covid-19 with our families and friends. An amazing campaign to push the Covid-19 vaccine to the nation. I was over the moon when they came out in the malls. Aasha and I went for a little photoshoot to check them out and I can honestly say it was one of my proudest moments for me in my practice.
I am very grateful and humbled by this opportunity to share my work and the work of my fellow amazing artists across the country. Also, it was truly amazing to be able to use my work to connect with the Pasifika community about the Covid-19 vaccine, especially in these uncertain times.
Find out more about Tai Nimo and the Tautai Fale-ship residencies at Tautai.org.
Share this: