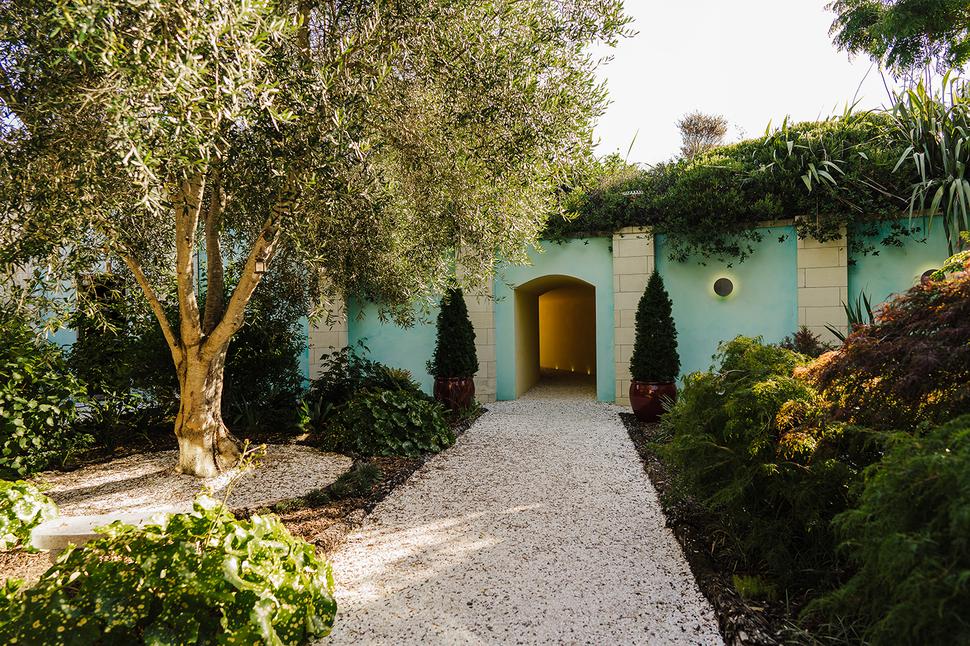 Great Escape: Discover A Hidden Bay Of Islands Getaway
Go beyond the garden walls to find a magical luxury retreat in Russell
Friday April 9, 2021
Location: Russell
Visit: Donkeybayinn.co.nz
Heading for the boutique bliss of Donkey Bay Inn in the Bay of Islands, the journey in a sleek charcoal-grey Range Rover Evoque sets the tone for this elegant getaway.
With a panoramic sunroof and ambience-enhancing lighting, it literally maps out the comfortable four-hour drive from The City of Sails to Russell. Winding up the North Island, navigating blind corners with ease, it gives polite notifications of upcoming speed cameras, all while handling the road with a sophisticated grittiness.
Access to Donkey Bay Inn is a little mysterious. "Look for the golden gates," a text message says. A code is received and the gates grandly swing open.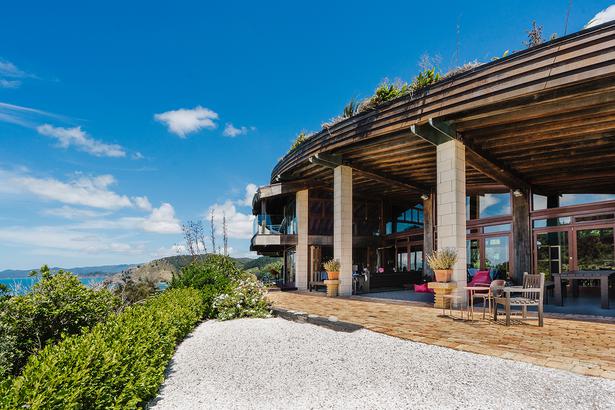 Donkey Bay Inn is a luxury stay just a few hours out of Auckland. Photo / Supplied

This cannily named venture is a luxury lodge, housed in a mansion in Russell — with a living roof and a sweeping balcony that overlooks the private bay owned by hotel founder Antonio Pasquale (the inn is Pasquale's personal home).

The charming Antonio — expect a kiss on the hand if you're lucky — and his well-chosen staff make you feel like family. Donkey Bay Inn is not pretentious but eclectic, luxurious and rule-breaking.

Why paint your walls white when you can paint them Tiffany blue and hot pink? That was Pasquale's choice of colour scheme for the garden walls.

READ: Adventurers Will Love This Remote High-Country Hut

The most magical feature? The inn is hidden. A flax plantation on the roof and bushy foliage hug the building, a sophisticated camouflage.

And where else to stay but the honeymoon suite, otherwise known as the Skyfall Suite, complete with expansive bathroom — the shower equipped with Hollywood lighting — sweeping decks overlooking the private bay, the suite designed so you can truly appreciate the view.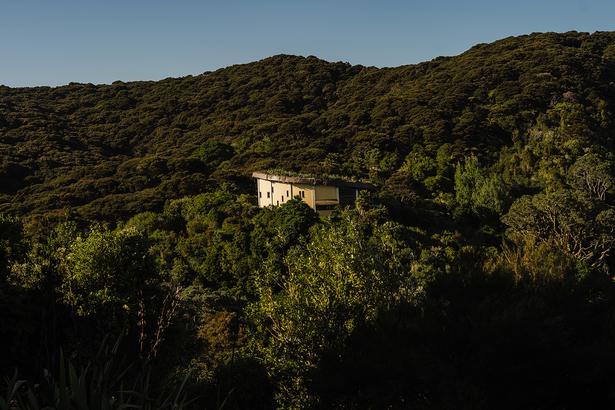 Unwind for the evening with a glass of rosé, and settle into a pre-dinner outdoor bubble bath with an exceptional view.
Speaking of dinner, restaurateur Michael P. Dearth, owner of Baduzzi and The Grove restaurants in Auckland, set up shop at the boutique hotel over summer, closing The Grove and opening it as a pop-up restaurant at Donkey Bay Inn.
READ: Go Off-Grid In Luxury At PurePods Kaikoura Hut
It delivered in all its finery (ingredients were locally sourced from Donkey Bay Inn itself and on the road from Auckland to Russell) and the dishes were impressive and delicious.
When Antonio had Donkey Bay designed, he did not scrimp on the details.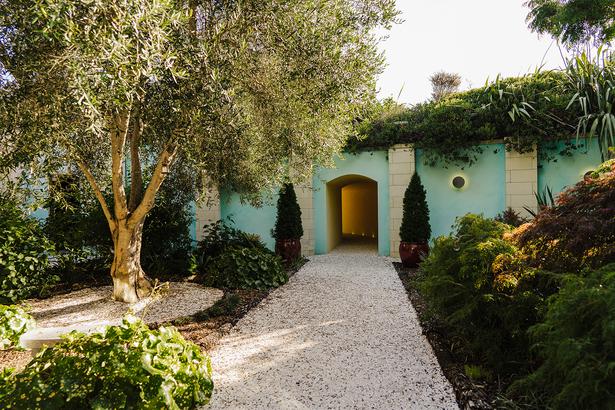 Everything is curved, paying homage to the shape of the land. Antonio prioritised achieving an environmentally friendly residence, which is off the grid, and providing guests with fresh produce from the gardens and honey from resident bees. Artwork collated over a lifetime dresses the inn.
It's all breath-taking, and the awestruck feeling lasts until the end. Departing through the golden gates and winding home through the Far North feeling fulfilled and spoilt, the Evoque provides a final memento of a luxurious getaway.
– Originally published in Viva Magazine – Volume Three
Share this: