Real Weddings: Georgia Pratt-Holiber & Nicolas Holiber In Matakana
Model Georgia Pratt wed artist Nicolas Holiber at a dreamy backyard celebration in Matakana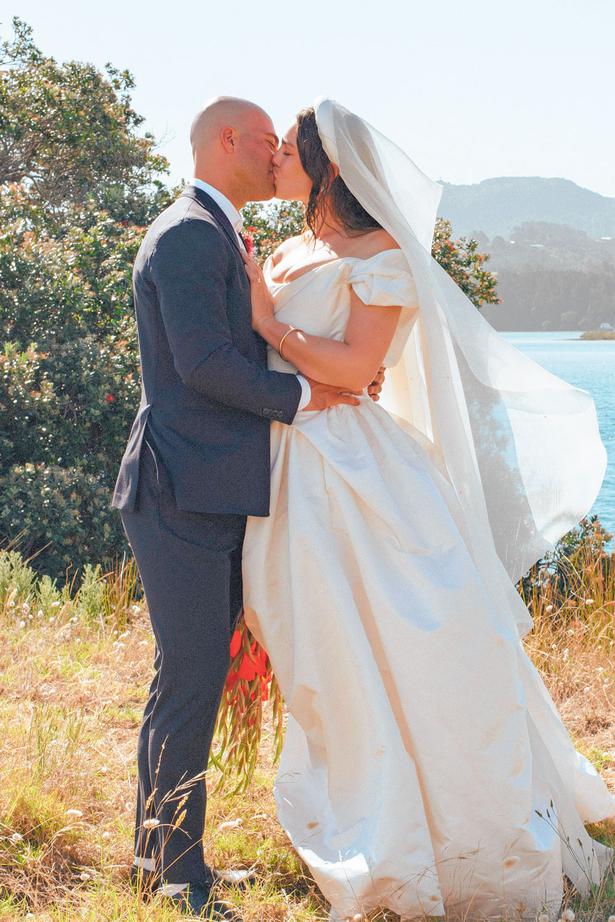 Wednesday April 10, 2019
The Proposal
Georgia: My parents were visiting New York for the first time, just in time to celebrate Thanksgiving with Nicolas' family. We all spent the week in Vermont. The day before Thanksgiving, Nicolas and I went on a hike with our dog, Vito. He proposed on the hike and everyone was already waiting at the pub to celebrate.
READ: Fashion Designer Paris Mitchell Temple's Lake Rotoiti Wedding
The Vision
Nicolas and I were excited to bring our families and friends together; we wanted as many friends and family to be involved as possible. That was the vision — a big backyard party with all the people we love.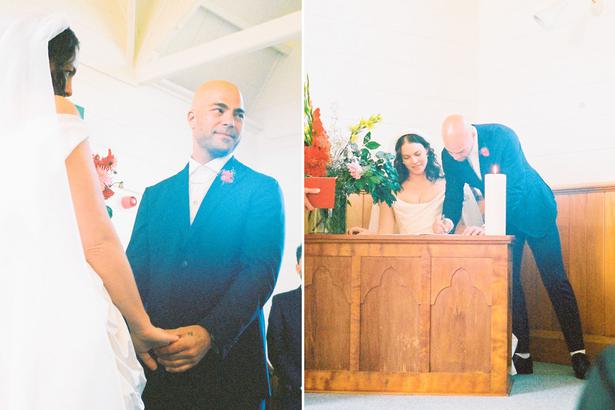 The Location
My great aunt and uncle had recently retired to a beautiful property in Matakana. It has a big, sheltered paddock with beautiful big trees and lots of space for their grandchildren to run around. Their family has been a very big part of my life and so having them host the wedding was really special. The ceremony was just down the road at St Andrews chapel. We wanted to get married in a chapel to honour my Catholic upbringing.
The Rings
Nicolas worked with a jeweller in Vermont to design my ring. He used emeralds, which are my favourite, and designed it in an art deco setting, which I also love. There are two simple gold wedding bands that sit either side of the engagement ring. We had a jeweller friend, Jeanie Prounis from Prounis in NYC, make Nicolas' wedding band, which is a simple 22k gold band.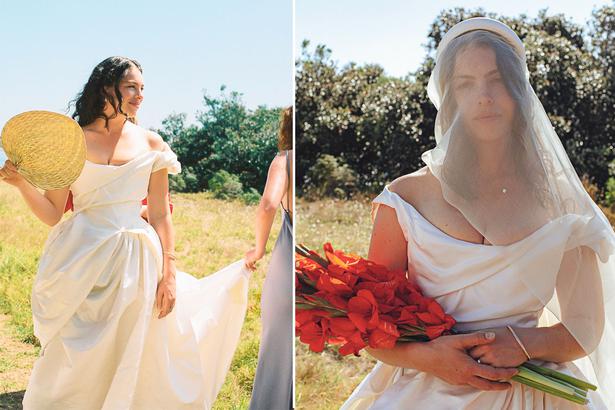 The Dress
That big ball of silk is easily my favourite thing I have ever worn. I knew the Vivienne Westwood dress would probably suit me, but after I tried it on I didn't feel as though I wanted to wear anything else. It captured the elements of "bridal" that I liked without being too traditional. It was a really clever dress while also being a bit mad and whimsical all at the same time. All the things I felt my wedding dress should be.
READ: 9 Of The Most Memorable Movie Wedding Dresses
My friend Glen Prentice and I made the veil and headband. The veil was silk gauze and we hand-sewed tiny, coloured glass beads, rose quartz and mother of pearl shell into it. It was subtle but caught the light when it moved. That is a really special memory for me too.
The Suit
Nicolas wore a beautiful Boglioli suit in deep aubergine. Following family tradition he also wore a small horseshoe pin that belonged to his late grandfather. He wore pink strawflowers with baby's breath in his lapel.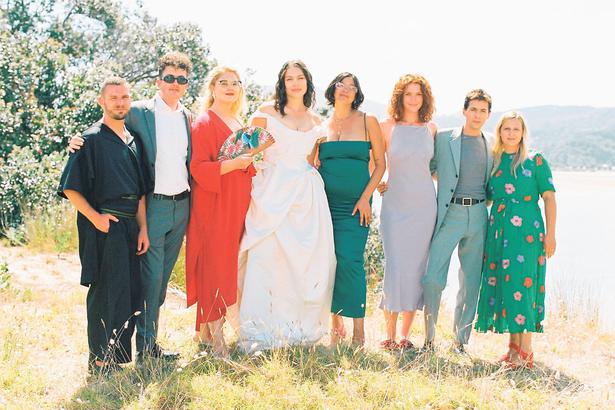 The Bridal Party
Nicolas' groomsmen were his brothers, cousin and my younger brother. They wore navy with a purple dahlia on their lapel. My bridal party was four of my girlfriends and my three boyfriends. They all picked their own outfits and I made Katy's lilac dress and the flower girls' silk gingham dresses.
The Flowers
We wanted the flowers to be fun and colourful and anything but bridal. My friend Anna Rodewyk, her partner, Zeke, and their family spent the days before putting together the most beautiful florals full of dahlias, delphiniums, baby's breath, olive, nikau, lilies, stock, and others foraged from the property. My bouquet was a big bunch of vermillion red gladioli.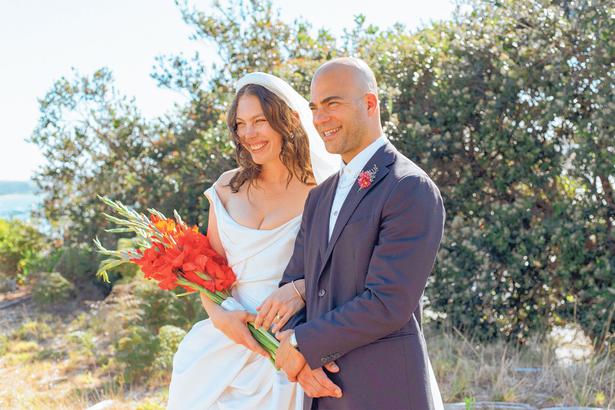 The Photos
Lily Cummings is a close friend of ours and our family's and she takes amazing portraits so she took our more formal photos. We wanted to supplement these with some more candid and documentary-style photos, which Harry Were was perfect for. They both took incredible photos. Maggie Gardyne took sneaky photos through the church windows and Nicolas' best friend took photos of everyone dancing.
READ: Wedding Day Tips For Grooms From Our Men's Style Experts
The Food
Our family has always celebrated anything by cooking a lamb on a spit, so we did lamb, and our friends Laura Leeson and Matt Casey from Source Kitchen created a beautiful family-style menu that was colourful and summery, full of big salads, vegetables, home-made butter and bread. We chose not to have a traditional wedding cake, so for dessert they made a giant pavlova that we cut late at night, and it got completely devoured.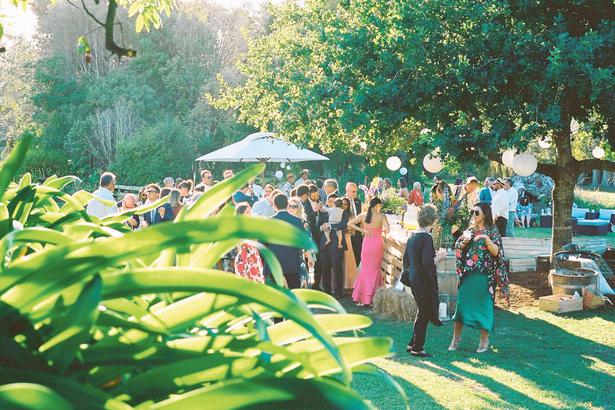 Lessons Learned
Take a few moments throughout the wedding to step back and look around you, soak up all the memories you can. And don't forget to have a proper meal on the morning of the wedding.
The Big Day
The day of the wedding was a beautiful, calm sunny day. Nicolas and I chose to write our own vows to say privately to each other before the ceremony. It was such a beautiful way to start the day and a special memory just for us. It was important to have a private moment before we headed into the rest of day with everyone around us. I started getting ready with a swim in the ocean. My brother and sister-in-law made breakfast for everyone, tuatua fritters and eggs. My friends Matt Benns and Tommy Stayton did everyone's hair and we all did our own makeup. It was very relaxed and fun. There were definitely moments during the ceremony and reception where Nicolas and I just couldn't believe that all of our people were there in one place. The whole day felt very cinematic.
Share this: