A Stylish Man: Simon Pound On His Personal Style
The co-founder and managing director of Ingrid Starnes and host of popular podcast Business Is Boring shares his style pearls of wisdom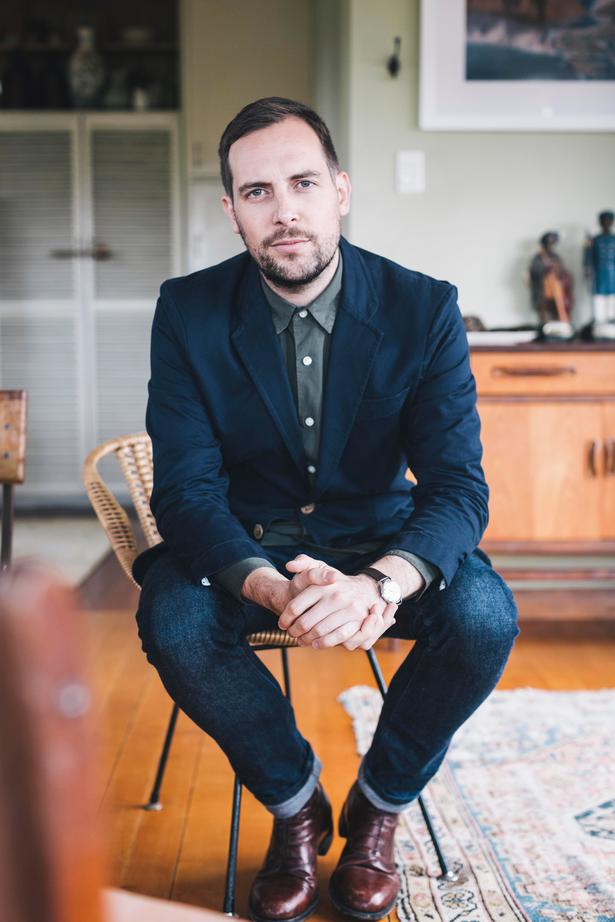 Saturday March 23, 2019
A man of many hats, Simon Pound has managed to stick to a very classic uniform of well-made classics; whether it's a navy blazer or a crisp white t-shirt — Simon wears it well. He's the co-founder and managing director of his partner's fashion label Ingrid Starnes, and recently became a partner at ventures startup Previously Unavailable; and his Podcast Business Is Boring is highly popular. Simon shares the lessons he's learned over the years when it comes to style, and what self-representation means to him. 

What does personal style mean to you? 
Being comfortable and feeling good and maybe telling a bit of a story about the kind of makers and designers and things you are interested in.
How would you describe your personal style?
I'm a bit of a uniform dresser, often with some combination of navy pants, a white top and some white shoes. Mainly what are kind of pretentiously called elevated basics. Not much in the way of branding, and I love things with a subtle story to them.
When did you become interested in style? 
It would be very generous to call what I was first interested in 'style' haha, I have clear memories during Intermediate years of being in ballooning orange Origin jeans, round glasses and a Stussy 8Ball shirt and walking in front of my parents so they didn't make me less cool, when I couldn't have been less cool. Actually, I think that look might have come back around. I've always loved clothes, from my CHIPS t-shirt I wore to pieces as a kid through to working at Fabric, Working Style, Little Brother, and Crane Brothers at Uni. The wardrobe allowance and discounted clothing was more interesting than the wage.
READ: A Stylish Man: Hone Hartnett
What's your favourite style memory or moment in your life? 
I think my favourite would probably be getting some shoes made by Roberts and Hasset in Melbourne when pretty much the last thing in the world I could afford was getting shoes made. They are these amazing kangaroo-skin boots based on a 100-year-old pair found in a Melbourne warehouse basement. They get better every year, and if you average out the ten years of wear I've had and loved them they are now actually probably the best value shoes I have. The guys who made them were keeping a craft alive, they were going for something timeless and they were making them bespoke, down to the last, for every customer. They are still going strong and that is the kind of style and sustainability I like. 
Who's style have you always admired? 
I really like Nat Cheshire, for his elegant style being another of the ways he says something with everything he does.
What is your favourite item of clothing? 
Looking at my wardrobe it'd have to be the plain white shirt, whether a button down oxford, a 'granddad collar', or a dressier collar, a plain white shirt means you always feel considered even though it is the simplest of all things to wear.
THROWBACK: Ingrid Starnes' Crown Lynn Connection
What in your opinion should every man have in his wardrobe? 
Whatever is comfortable for them. For me, that's shirts, some kind of unstructured blazer in a navy, a grey sweatshirt, some classic and easy shoes like a plain converse all-star, a stan-smith type thing, maybe Common Projects, something that can be dressy enough and you feel good in.
What advice do you have for guys that aren't as confident with their personal style?
Go see someone like Asuwere, they will get you nice elevated basics and make sure you don't go wrong.
There is value in self-representation beyond clothes — what do you think men should be doing better in 2019 when it comes to presenting themselves to the world?
Men need to listen more to anyone that is trying to share a problem with how men like them act. Being good listeners and allies is about the best way men can present themselves right now I think.
Share this: