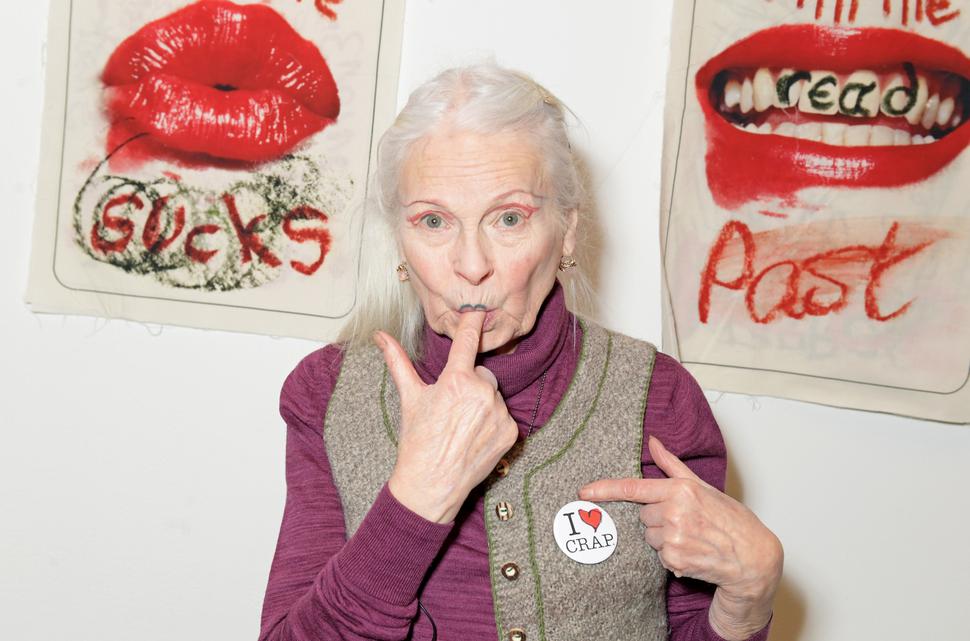 Even At 80, Dame Vivienne Westwood's Message Remains The Same
Buy less, choose well, make it last — the British queen of punk's activism continues to make an impact
Saturday April 10, 2021
Does any fashion designer enjoy the courting of publicity quite as much as Dame Vivienne Westwood? On her 79th birthday, Westwood celebrated by being strapped into a giant birdcage and suspended 10 feet high in front of London's Old Bailey, in a show of support for Julian Assange.
For her 80th, today? She's taken over the city's Piccadilly Lights, and social media, with her new anti-arms trade film, 'Do Not Buy A Bomb'.   
"I have always combined fashion with activism: the one helps the other," she says. "Maybe fashion can Stop War." 
THROWBACK: Five Simple Ways To Be A Conscious Dresser
Now an octogenarian working for over 50 years in the fashion industry, Westwood's 'activist moments' have become as important to her reputation as her 'catwalk moments'.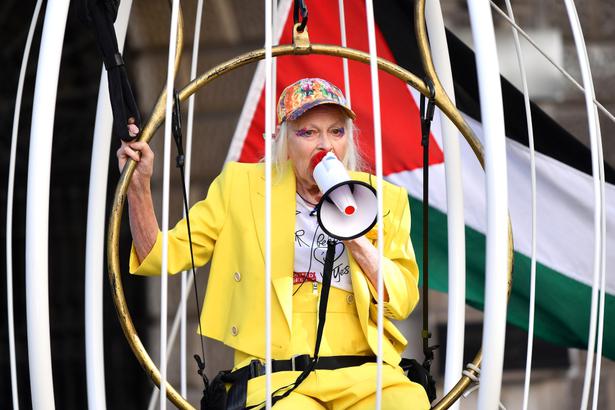 Since the early 1970s she has used her platform as a designer to comment on subjects from gender norms, to fracking, to climate change. The punk spirit on which she founded her career is as visible today as it ever was.
Westwood's career began on London's King's Road in 1971 at the boutique SEX which she co-founded with her then-husband, Sex Pistols manager Malcolm McLaren. Their vision to challenge the establishment in the 1980s, and mock Margaret Thatcher's Government, attracted a lot of attention and a huge following (on the cover of Tatler magazine in 1989, she even dressed as Thatcher, wearing a suit that Thatcher had ordered but not yet collected).
WATCH: Vivienne Westwood spring/summer 2021 Voices Campaign with Luke Brennan
Making original artistic and political statements became a forte. She posed naked for PETA at 73, and attempted to deliver a box of asbestos to 10 Downing Street in 2014, as a Christmas present for David Cameron and a comment on fracking.
To those who are not disciples, Westwood's continuous stream of bold public stunts may seem like an attention-seeking act. Certainly there have been plenty that didn't stick (say the garlic bulb necklaces, designed to ward off evil spirits, or the nine-inch platforms that almost made Naomi Campbell break an ankle). But there have also been plenty that have had an impact on wider society.
On her 80th birthday, still in the midst of a pandemic which is further shaping consumer behaviour, perhaps the most significant one to reflect on is her cry for the public to "buy less and buy better".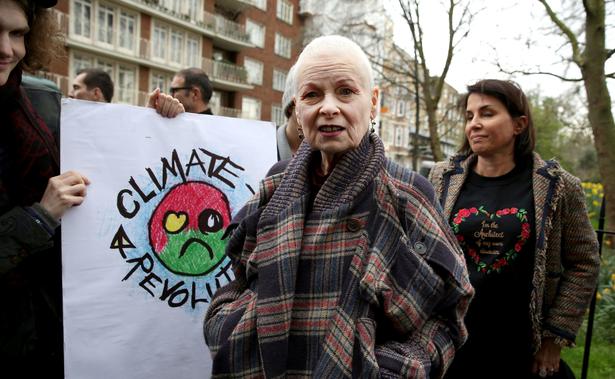 Westwood shaved off her hair in 2014 to draw attention to the climate change crisis, announcing that she would not be expanding her fashion business any further due to the contradiction it would present with her anti-consumerist beliefs. Instead, she told audiences to purchase less, but better quality and long lasting clothing.
Seven years on, it's a mantra that is dominating fashion industry discussion now. The number one marketing message at most labels is that customers should "buy less and buy better". Westwood didn't invent the motto, but her early backing and vocal promotion of the sentiment were essential to propelling it throughout the fashion industry.
READ: Pamela Anderson's Political Reinvention
"Vivienne Westwood has a long history of addressing issues including climate change, civil liberties and nuclear disarmament," said Josef O'Connor, artistic director of CIRCA, her collaborators on the new anti-arms trade film. "[She provokes] others to think afresh and reflect or consider their own actions."
Writing about Westwood is always engaging. She's never short of ideas, never not hatching a plan to suspend herself in front of a landmark, or strap a dagger to a supermodel wearing couture. She is a unique character within fashion, and will doubtless continue to set a similar pace in her 80s.
 - The Daily Telegraph
Share this: