Juliette Hogan Announces The Closure Of Her Bridalwear Service
Re-evaulating its core business, the popular fashion label re-focuses its attention to its mainline collection and retail business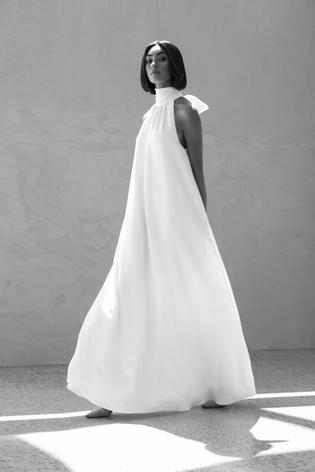 Auckland-based fashion designer Juliette Hogan has announced she will close her bridalwear category to focus on her mainline collections and four retail operations – three in Auckland (Newmarket, Ponsonby, Britomart); and one on Wellington's Victoria Street.
The announcement comes at a time where many fashion designers and brands both local and international, are adapting to the current climate in order to survive. Whether it's the announcement overnight from Gucci's creative director Alessandro Michele that the brand will be scaling back to seasonless collections; or Dries Van Noten's proposition of re-setting the delivery and discounting cycle to one more aligned with real-world seasons – fashion is experiencing a significant shift in how it's ultimately delivering clothes to its customers, focusing on areas that require immediate attention.
READ: At Home With Juliette Hogan
Launched in 2016, Juliette Hogan bridalwear has been a popular option for brides looking for a contemporary and understated approach to what to wear for their big day; and the service arrived at a time when a growing number of brides-to-be were looking for less 'traditional' bells and whistles dresses.
Operating a bespoke service from the label's Morningside showroom in Auckland, the collection highlighted some of the label's greatest hits; from billowing silk dupion skirts, sporty lace dresses and crisp column gowns in a variety of premium fabrics.
The announcement also comes at a time where new data shows marriage rates are at an all-time low, dropping to its lowest level since 1960, according to a Statistics New Zealand statement released earlier this month. The data includes marriages up to March 2020, but there doesn't seem to be a significant drop in marriages as a result of Covid-19. 
READ: Fashion Insiders Discuss: How Will Covid-19 Affect The New Zealand Fashion Industry?
For Juliette, the decision came down to evaluating what the labels' core business is, as she writes in an open letter to her customers. 
"Over the past few months we have enjoyed seeing the clever and creative ways that couples have been adapting their approach to the traditional wedding, and we are so hopeful for those still busy planning, and the individuals and businesses connected with the wedding industry, now that we are closer to returning to some kind of normality."
min-height: 699px
READ: Taylor Swift Wears Juliette Hogan
Juliette launched her eponymous label in 2004 after studying at the Parsons School of Design in New York, and a few years later, opened her first store in Ponsonby, in 2007. The bridalwear launched in 2016 was an organic development and an answer to the growing number of brides looking for a dress that was streamlined and sophisticated.
The label has other successful categories as part of its offering including loungewear, eyewear and denim; and has been worn by several high-profile women including Zoe Bell and Taylor Swift.
READ: Runway Report: Juliette Hogan NZ Fashion Week 2019
"From the creative teams involved in our photoshoots, the local media that have written about us, the stylists that have included our products in editorials, the brands that have supported our events, the artisans that have helped to create our dresses, my hard-working and talented team, and last but certainly not least, a huge thank you to the brides that have chosen to wear Juliette Hogan on their special day - we are so grateful."
"It is certainly a bittersweet goodbye to bridal from us, helped somewhat by the knowledge that we know we will continue to connect with some of you through our mainline collection and boutiques. It has been such a privilege to be a part of one of the most special celebrations with you all."​
The label will be offering its sample showroom bridal collection for sale. For those interested please contact @juliettehoganbridal or bridal@juliettehogan.com directly. Juliettehogan.com
Share this: