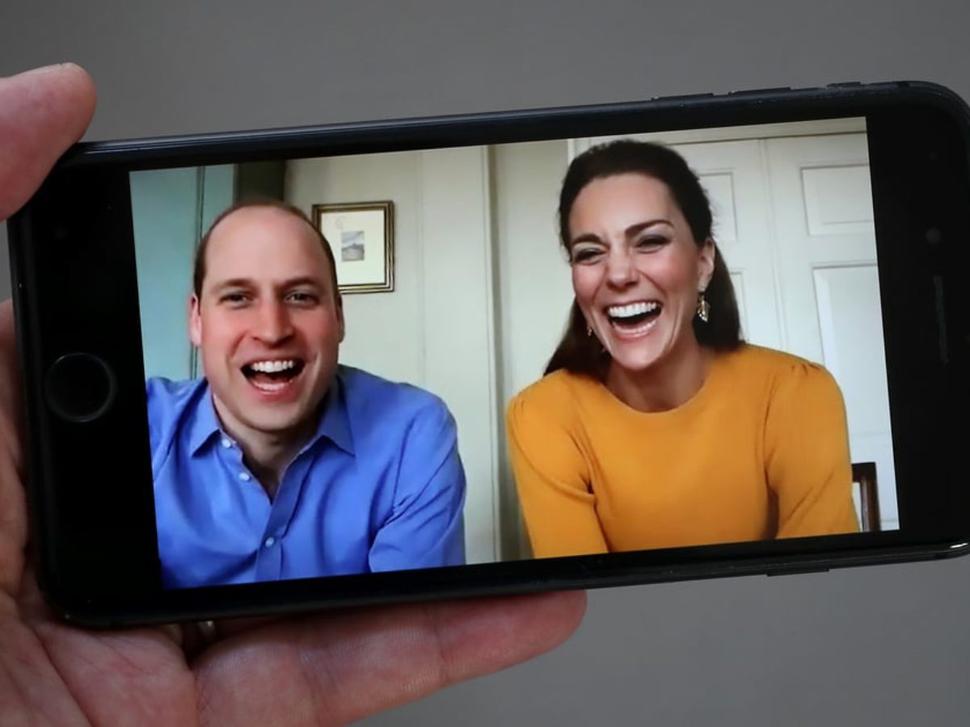 The Message Behind The Duchess of Cambridge's Lockdown Style Formula
There's thoughtful tact to how the Duchess has dressed for her video conferences
Monday May 18, 2020
In the space of a few months, dressing for a video call has gone from being an afterthought to a fashion category in its own right. Partly because it offers an excuse to dress up for the day as we used to BC (before corona) but also through necessity. As more and more of our lives moves online, it's become important to find ways to signify tone and intention through our clothes, whether for an important business meeting or a celebration with 30 or 40 others on the line.
READ: Groom to Zoom: The Secret Behind Kate Middleton's Lowkey Lockdown Makeup Look
For those in the public eye, personal presentation has never been so important. Without large camera crews, glam squads of hairdressers and make-up artists, stylists and tailors, it's much easier to make a sartorial misstep, one that will be all the more glaringly obvious thanks to the close scrutiny that those video-call boxes expose them to: there is no interaction with the public, minimal movement and very little body language to distract from the picture put before us.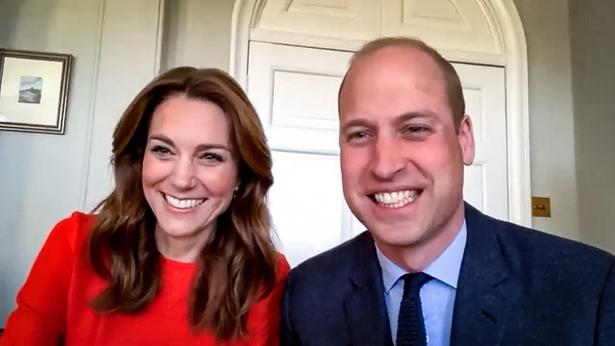 While politicians and newsreaders have had varying degrees of success, the Duchess of Cambridge's lockdown style strategy has proven to be a winning one.
For the Duke and Duchess's video-call debut on the April 9, speaking to a primary school remaining open during lockdown to teach the children of key workers, Kate wore a mustard-yellow top from Spanish high-street brand Zara. The bright colour was a natural choice - not only did it come across as friendlier to the children on the other end of the line, it also felt optimistic and uplifting - both moods that the colour yellow is associated with.
Tailored jackets and coats layered over dresses are usually her go-tos for engagements like these, but that level of formality would seem strange in a home setting (even Prince William eschewed a jacket and tie, leaving his blue shirt unbuttoned at the collar). Instead, the relaxed cut of the top felt more relatable - and set a tone of informality that would continue through all of her video appearances.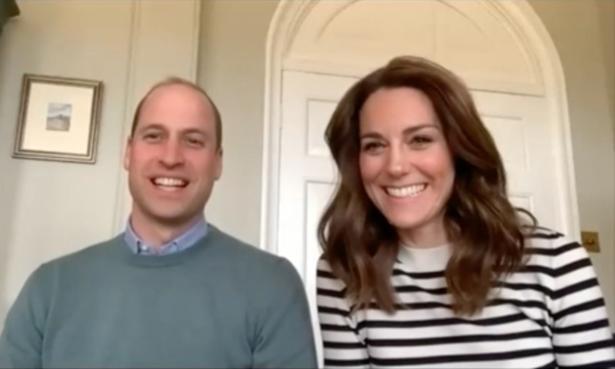 Just over a week later, speaking to the BBC via video-call, Kate swapped bright colour for bold stripes. A navy and white Breton is another of Kate's staples, but one she'd usually save for off-duty wear, like days out with the children, or for a day's sailing at Cowes. Not only did the informal choice add to the intimacy of the call, it also brought those cheering connotations of days by the seaside - a welcome dose of escapism through fashion.
READ: The Royal Designer Behind Kate & Diana's Winning Diplomatic Wardrobes
For an appearance on the BBC's Children in Need and Comic Relief Big Night In, the Cambridges were beautifully coordinated in shades of blue, with Kate wearing a long-sleeved floral dress from British brand Ghost. Any of their family appearances calls for a degree of coordination, since the photographs will be used around the world, and so they need to look polished and work as an ensemble - think of those cohesive-but-not-twee Christmas card outfits. But those shades of blue had more meaning behind them, as the Cambridges were appearing on their Norfolk doorstep to join the weekly clap for the NHS - so what better to wear than shades of NHS blue?
WATCH: The Duchess speaks to NHS Staff and Parents About Challenges of COVID19 on New Families
Certainly, Kate's choice of brights is down to Her Majesty, who always wears them to ensure that she cuts a confident and uplifting figure - something especially important during lockdown. Accordingly, Kate chose upbeat yellow for an appearance on ITV's This Morning. Her £495 silk dress was by Raey, the own-brand of luxury British e-tailer Matches, and was printed with trees. As our parks and gardens are bringing so much joy to us all while in lockdown, the nature theme seems particularly apt.
And Kate's latest appearance reinforced another of the Duchess's style tenets: to wear and re-wear her clothes. As the weather shifts, many will be thinking of making new purchases - no bad thing, when British fashion brands, and our economy, could use the support. But it's important to shop with longevity (and therefore sustainability) in mind, something that Kate reminded us of when she chose to re-wear her Altuzarra 'Aimee' polka-dot button front dress (also in a shade of NHS blue) and a pair of Patrick Mavros earrings on a video call led by the Queen herself thanking nurses across the Commonwealth on Tuesday.
READ: Kate Middleton Shows Celebrities How It's Done On The Baftas Red Carpet
Kate may not have her stylist with her, but there's no doubt each and every outfit is being discussed to the nth degree to ensure that she gets it right - so there's much that the rest of us can learn from her lockdown wardrobe. But the big question is: with her hairstylist out of reach, how on earth is she managing those bouncy blowdries? Perhaps, in a move that would truly show blitz spirit, William has learnt his way around a paddle brush.
- By Charlie Gowans-Eglinton, UK Daily Telegraph senior fashion editor
Share this: