Meet The Team: Rosie Herdman, Assistant Fashion Editor
Get to know Viva's Rosie Herdman ahead of NZ Fashion Week 2019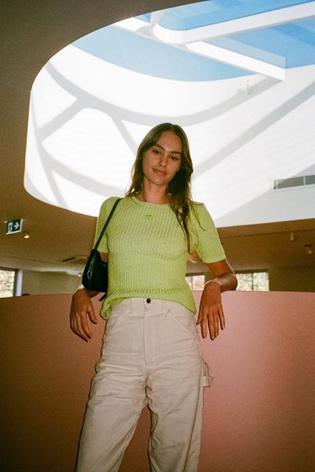 What is your role at Viva?
I'm the assistant fashion editor. My role involves working on fashion content for both Viva and Canvas magazines, the New Zealand Herald's weekend insert, along with fashion and creative director Dan Ahwa.
I help out with shoots and style my own; write fashion and trend stories for both print and online; create exclusive content for Viva.co.nz, and Dan and I manage the Viva Instagram account (follow it @nzhviva).
Another aspect of my job is interviewing and writing about people not necessarily in fashion, just cool individuals excelling in their respective fields, which I love.
What will you be doing at New Zealand Fashion Week 2019?
My biggest job this year is I'm once again fronting our NZFW videos each day, running around with the help of our wonderful videographer Joseph Griffin, going backstage to chat to hair and makeup artists, models and of course the designers, plus attendees and international delegates.
I'll also be attending shows outside of this and writing show reviews for Viva.co.nz, plus covering any action on social and live for the Viva Daily. Follow along!
And what are you looking forward to at NZFW this year?
I'm looking forward to seeing how everything will play out with fashion week being back at the Town Hall this year — it's a beautiful building, so I'm excited to see how they work with it.
Catching up with people who are here from out of town is always great.
In terms of shows, I'm looking forward to Paris Georgia, who is this year's Mercedes Benz Presents designer; Maggie Marilyn, showing for the first time ever; Zambesi, celebrating 40 years in business; and up-and-coming designers like Starving Artists Fund, Havilah and those showing as part of Miromoda. 
What's your second career option?
If I'm ever feeling overwhelmed at work, I fantasise about relocating to a tiny town in Europe and just making sourdough 24/7, so maybe a baker. Otherwise, I love playing around with makeup so maybe a makeup artist.
How would you describe your personal style?
Really all over the show, mood-driven, lots of vintage and lots of trousers. I don't really wear dresses or skirts that much, but I'm keen to change that for #hotgirlsummer 2019.
What's one fashion trend you love?
I'm actually a big fan of tie dye; blame that on my years at a Steiner school. Also love a mannish oversized blazer.
And what's one you wish would go away?
I don't really like logo-mania, and overtly branded looks.
What song is currently number one in your rotation?
I'm a bit obsessed with King Princess at the moment — all her songs are great but particularly Prophet. It's sexy.
Where's your go-to spot for dinner and drinks with friends?
Sri Pinang on K Rd and Tianze in Sandringham for the best food and cheap BYO corkage; like the rest of the Viva team I love Amano for pasta (and a martini); Peach Pit for the best ways to eat vegetables; and my partner is opening a wine bar with yum food on K Rd in September, everybody come along!
What are some of your handbag essentials for NZFW and life?

Lip balm.
Snacks — there are these bars that are made of just smooshed dates, cacao, nuts and dried cherries. They are so good.
Sunglasses and seeing glasses if I have to drive somewhere.
Airpods and iPhone.
My Blunt umbrella — I'm a chronic umbrella-loser, so if I still have it by the end of the week, I'll be impressed.
A pocket mirror to check for boogers and things in my teeth.
Painkillers for a pesky headache.
Some different lipstick options just in case.
Hand cream! I don't really travel light.
What are your favourite New Zealand stores or brands?
A lot of what I buy is vintage — I love a charity/hospice store, and for curated vintage Waves Vintage is great, so is Tango, Crushes has good nineties stuff, and Encore in Three Lamps has newish designer stuff and it's not too hectic — Wixii also has a great selection of imported vintage pieces, and Vixen is good too.
I grew up in Wellington and their vintage stores are the bomb — Hunters & Collectors, Ziggarat, Recycle Boutique, Paper Bag Princess.
In terms of New Zealand designers, there are almost too many great ones to name, but for my own wardrobe I like Wynn Hamlyn, Ovna Ovich, Kowtow, Kate Sylvester, Lonely, Ruby, Karen Walker, Penny Sage… Georgia Jay for her bags, and I always admire Paris Georgia, Harman Grubisa, Georgia Alice. The list goes on! We are so lucky.
What do you like to read outside of Viva?
My go-to's are The Cut; NYtimes; The Guardian; The New Yorker; The Times UK; Manrepeller; Into The Gloss; Refinery29; Vogue… And Canvas! GQ has great long-form celebrity features, as does Vanity Fair & Rolling Stone.
As Dan said, we both like to save articles for later in Pocket and share fashion-related stuff with each other to stay informed. It's such a great App, I'd recommend it to anyone.
I'm in a book club, so that means I usually have a novel on the go. The next one we are reading is Three Women, which Amanda gave me and Jo has already read so it comes highly recommended.
I follow a lot of journalists here and abroad on Twitter so it's good for up to date news or if there's a big news story that's trending I'll often go there for of-the-minute commentary.
Who are your favourite people to follow on Instagram?
My favourite people to follow aside from people I actually know IRL are insta-comedians. @servideo, @chloeiscrazy and our whole office is obsessed with @bennydrama7. Also closer to home @rapomare's cooking videos are the best thing ever.
@mignonettetakespictures for cute animal pics like this one of a smiley alpaca; @thankyou_ok for her artful pics and cat; @doingwell for inspiring wellness/health info, and @katiejanehughes for beauty inspiration and helpful videos!
Oh and how could I forget @pastagrannies for a very wholesome delicious time.
Who is your celebrity spirit animal?
Brittany Broski A.K.A Brittany Tomlinson A.K.A viral kombucha-drinking lady.

Share this: