Meet The Team: Dan Ahwa, Fashion & Creative Director
Get to know Viva's Dan Ahwa ahead of NZ Fashion Week 2019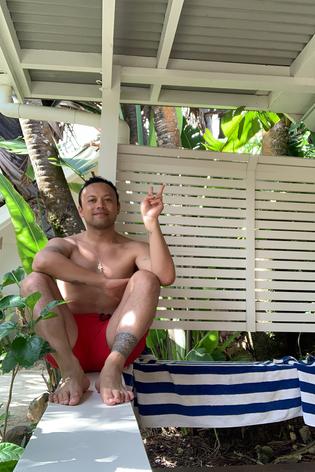 What is your role at Viva?
Fashion & creative director. 

And what does that involve?
I guess there are two parts — one is primarily directing the tone and mood of how we report all of our fashion content whether a written story, fashion shoot, commercial content, on our social platforms, at events — the list goes on. 
It's one of the strongest pillars at Viva, and I'm proud of its smart, informative, interesting, inclusive and fun personality. Along with our multi-talented assistant fashion editor Rosie Herdman, we support the wider company with thoughtful fashion content across all our platforms.
The second part is ensuring everything we do is on-brand in the market — from marketing to events, working closely with my editor Amanda Linnell and deputy editor Johanna Thornton on various editorial projects; or commercial editor Ashleigh Cometti to come up with creative solutions for different clients.
What will you be doing at New Zealand Fashion Week 2019?
This will be the first year in 13 years I won't be styling any shows as I have been focusing on a personal project, so am looking forward to catching up with people over the week and seeing the collections.
I'll also be focusing on managing our team and how we cover the event for Viva across our platforms for print, social and online. Tune in.
And what are you looking forward to at NZFW this year?
Catching up with creative friends from overseas in town for the week. Seeing the new generation of designers; Maggie Marilyn's first runway show; Aho with Shona Tawhiao and Jeanine Clarkin; the Miromoda show; and what Kate Sylvester and Wayne Conway will do for the opening night. And of course, celebrating 40 years of Zambesi. Loads.
What's your second career option?
Something creative and outdoors like landscaping or something in horticulture.
How would you describe your personal style?
A mix of corporate hippy, bad taste, streetwear and utility. And a little Funky Offish.
What's one fashion trend you love?
The terribly named Shacket.
And what's one you wish would go away?
People that wear really uncomfortably tight jeans. Why would you do that to yourself?
What song is currently number one in your rotation?
Manifesto by Roxy Music.
Where's your go-to spot for dinner and drinks with friends?
Amano.
What are some of your essentials for NZFW and life?
I love a sneaky sandwich that can fit into my pockets for nibbling on in between shows, or a Cookie Time.
A lint roller.
Aesop rinse-free hand wash.
My black Paper Mate Flair pen and a notebook.
Airpods and iPhone.
What are your favourite New Zealand stores or brands?
Too many. I try and find pieces that fit my style while still supporting our local industry.
In my wardrobe, you'll find things I've loved and worn from Zambesi, Working Style, Huffer, Crane Brothers, Asuwere, Workshop, Salasai, Jimmy D.
I also love wearing pieces that I can get away with from Twenty-Seven Names, Harman Grubisa and Wynn Hamlyn.
What do you like to read outside of Viva?
I'm a magazine fanatic. My favourite magazines for both reading and pouring over photography include Vanity Fair, Architectural Digest, Fantastic Man, The New York Times' T Magazine, WSJ, Conde Nast Traveller and Travel Almanac. Le Monde for its beautiful design and images.
I'm forever a fan of Tatler because it's got a defined personality and is unapologetically outrageous in tone.
I read the Travel section of the NZ Herald every Tuesday.
I'm currently enjoy reading the articles on Gossamer.co. from L.A. Business of Fashion is also a good way to keep informed and it has regular newsletters to keep me up to date; Twitter is a great source for news, and I'm often reading The Huffington Post and The Guardian online.
Assistant fashion editor Rosie Herdman and I like to share fashion-related articles for later reading on our Pocket App, it's a good way for us to keep up to date and informed.
Love a good book when I've got the right headspace. Everything written by A.A Gill.
Currently reading Dress your Family in Courduroy & Denim by David Sedaris (will never be bored of his sarcasm) and Heads of the Coloured People by Nafissa Thompson-Spires.
Who are your favourite people to follow on Instagram?
@britneyspears, @mignonettetakespictures, @chloeiscrazy, @bennydrama7, @officiallouistheroux, @jasperconran, @kiribirii
Who is your celebrity spirit animal?
Larry David.
Share this: