Paul & Lisa Lee Are Bringing An Uncompromising Taste Of Korea To Ponsonby
Time and tradition go into every aspect of the cuisine at their restaurant, Ockhee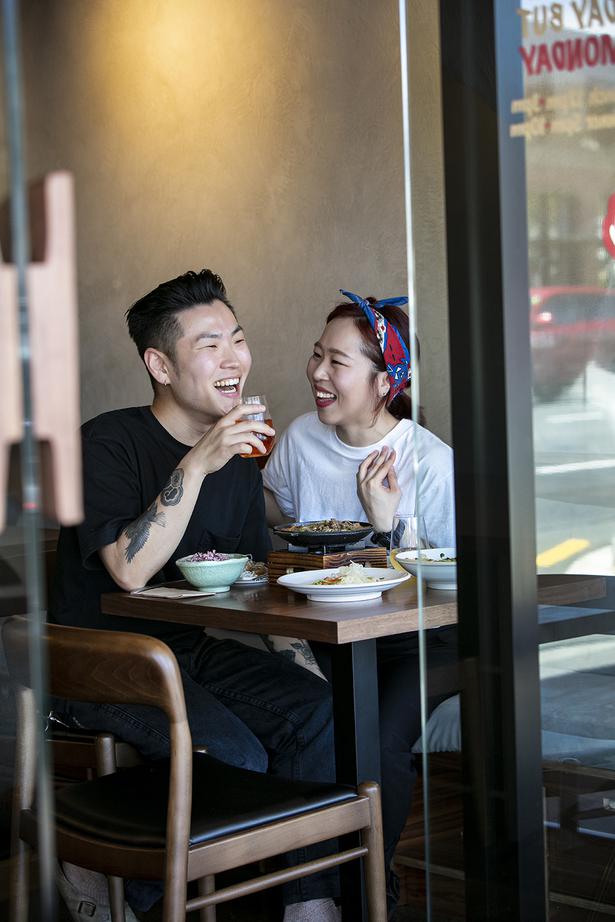 Sunday Jan. 17, 2021
Kimchi and fried chicken have acted like a gateway to Korean cuisine over the past few years, the former popularised for its gut-healing health benefits, the latter simply for being delicious.
But Paul Lee and his wife, Lisa, wanted to give the people of Ponsonby, Auckland, a more authentic taste of Korea when they opened their restaurant, Ockhee, earlier this year.
Yes, there is fried chicken on the menu (and yes, it's perfectly crisp, sweet, spicy and damn tasty), and there is kimchi, albeit the seasonal kind, persimmon in winter and stuffed cucumber in spring.
But the rest of the menu reads like a homely Korean kitchen with dishes learned from Lisa's mum, such as myeolchi guksu, a wholesome noodle soup made with anchovy broth and thin wheat noodles; and bo ssam, slices of slow-braised pork served with pickled sesame leaves, radish kimchi and the tiniest dried shrimp that pack a huge salty punch.
"She wanted Kiwis to eat Korean food the way it is supposed to be, not Westernised at all," explains Paul.
"We are the only Korean restaurant in Ponsonby so we have to do it the right way. Not compromising ourselves. I think it's easy to succeed when you give people that sweet, salty stuff but we just wanted to be proud of ourselves and do it the right way."
READ: Nanam Restaurant's Jessabel Granada On The Filipino Food That Shaped Her
Paul and Lisa met on a working holiday in 2012 and decided to make New Zealand their home. Lisa studied cooking and Paul worked his way around hospo — you may have seen him smiling over the coffee machine at Camper Coffee.
They began their search for a space three years ago and just before Covid hit went back to South Korea to source furniture, inspiration and recipes.
Lisa immersed herself in research, studying fermenting, pickling, vegetarian temple food, and even learned how to make Korean rice wine.
She spent time with her mum, who cooks based on instinct and measures in handfuls, sprinkles and dashes while Lisa scrambled with her notebook and scales trying to document it all.
With an entirely Korean kitchen team, everything is done the traditional way at Ockhee.
Lisa says time and effort goes in to the preparation, there's a lot of pickling and fermenting, all the sauces are made from scratch and the soup bases simmer for hours.
The contemporary spin comes only when the food is plated. Paul explains that Korean dishes would normally be served with soup, rice and vegetable dishes on the side, but Lisa combines the elements into one main dish to serve it in a modern way.
The drinks list features natural wines and soju cocktails, and the sleek restaurant space blends Korean-made furniture and crockery with art made locally by Paul's friends.
READ: Restaurant Review: Big Flavours At Korean Destination Gochu
At times, Lisa has questioned how some might respond to the more authentic dishes on the menu.
She worried a dish called muk muchim — squares of mung bean jelly tossed with soy sauce, chilli powder, sesame and a salad of red onion and chives — might be texturally too confronting, but people loved it.
Paul says opening during a pandemic has been a roller coaster, but seeing people react to their cuisine in this way — especially a younger generation who are new to Korean cuisine — is such a joy, and that's what keeps them going.
– Originally published in Viva Magazine – Volume Two
Share this: