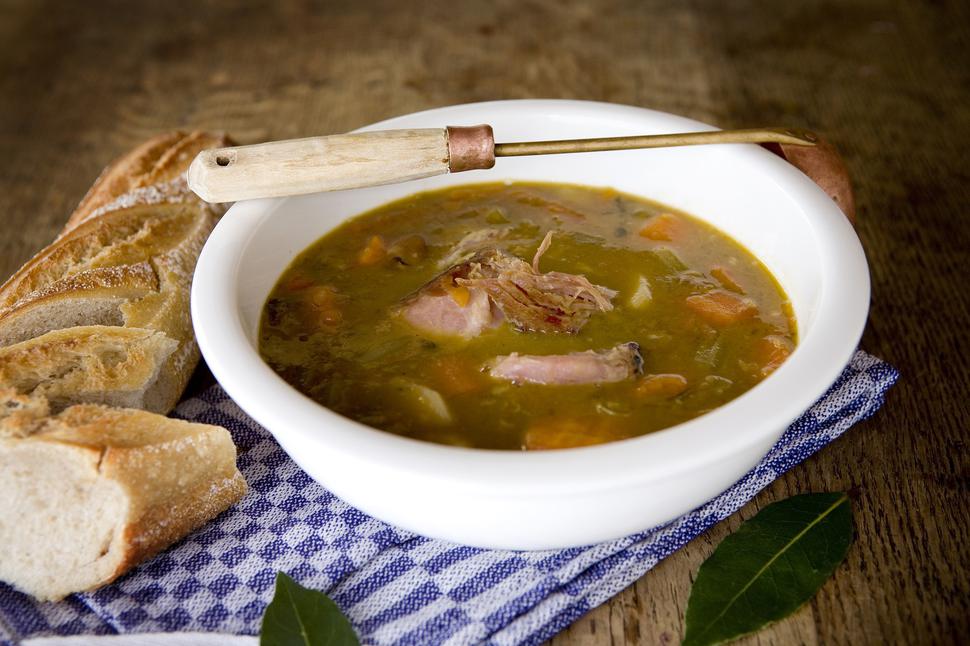 The Winter Soup Recipes The Viva Team Swear By
Soothing bowls of heartwarming goodness — these are the easy soups we love to make and devour
Thursday June 23, 2022
Pea and ham soup
"My mother-in-law Robin makes an amazing ham and pea soup that we often bring home and keep in the freezer for hearty winter lunches. She throws in a whole ham hock, a packet of dried pea and ham soup mix, and adds anything from root vegetables (potato, carrot, kumara) to leeks before cooking in the slow-cooker for 12 hours. The larger veges can be blended and the skin removed from the ham before serving with a slice of crusty bread." — Rebecca Barry Hill, writer
MORE SOUP: We Call This Soothing Soup Recipe Green Goodness
Fridge-raid soup
"My freezer should star in episode of Hoarders; full of squirrelled-away leftovers and pre-portioned meat, much of its contents is soup. This emergency stash has proved handy again and again, whether it's after a long day at work (I will pre-emptively pick up some sourdough or a baguette on my walk to the office for dinner later) or a sudden isolation requirement - soup to the rescue. There's pumpkin, beetroot and ribollita in there, but taking up the most space is an assortment of green mystery soup. I make it whenever there are vegetables demanding attention, or I think I need chlorophyll, and it's exceedingly versatile. I use whatever I have (sometimes just kale, peas and potato) but below is a rough guide." 
"Cook onion and garlic on medium heat in olive oil until soft then add some salt and pepper. Roughly chop all the vegetables. Add the more robust ones (e.g. potato or broccoli) to the pot. Add the stock and simmer until they are softish. Add the leafy greens and simmer for a bit longer, so they are soft not sad. Add your herbs and frozen peas for about a minute."
"Turn the heat off and let it cool a little bit, then blitz with a stick blender (I always end up burning myself). Add some pesto if you have it, or sometimes I blitz up some herbs, olive oil and lemon and chuck that on soup for a final flourish (and touch of zing). Serve into bowls, add some feta (or goat's cheese, parmesan works too) or yoghurt and a squeeze of lime. Add some olive oil and salt and pepper. Serve with plenty of buttered bead for dipping." — Emma Gleason, commercial editor
MORE SOUP: Carrot Soup & Cheese Dumplings Recipe
Butternut, carrot and kumara soup
"A fabulous winter warmer and easy prep for those chilly weeknights, bright in colour and packed with vitamins and nutrients. Roast half a butternut pumpkin, two orange kumara and a carrot with salt, pepper and paprika. Mix with olive oil and throw in the oven on the highest heat (220C). Fry an onion with a dollop of garlic. Once all cooked, sprinkle 1 tsp of cumin over the onions before adding the veges and a whole bottle of real vegetable stock. Boil and mash to your desired lumpiness." — Annabel Dickson, fashion assistant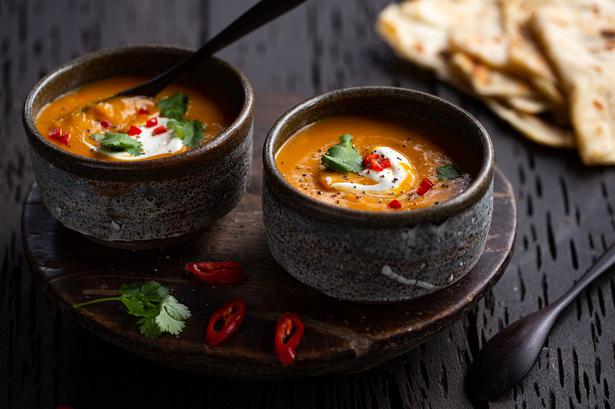 Pumpkin soup
"My mum makes a super simple pumpkin soup, but it's one that conjures up memories of us enjoying a bowl each on a stormy winter's night back when I lived at home. Her recipe calls for cooked butternut pumpkin, onion, garlic, vegetable stock and cumin, which is blended into a smooth puree before being ladled into bowls and served with crusty sourdough. Delicious." — Ash Cometti, beauty editor
MORE SOUP: Hearty Chicken & Vegetable Soup Recipe
Slow-cooked chicken soup
"It's about this time of year where my cooking skills are relegated to turning the nozzle on the slow-cooker. Soups are great for this, and I try to replicate a classic chicken soup my grandmother used to make. I make mine with a rotisserie chicken from the supermarket and I shred the meat into pieces by hand. I then dump into a slow cooker — sometimes I add a chicken leg in as the bone creates a good broth here. I then add chopped onions, minced garlic, chopped celery, chopped carrots, chopped leeks, about 5 chopped cherry tomatoes or regular tomatoes, two litres of chicken stock, lemon juice, half a cup of water, and then turn the nozzle on slow then forget about it."
"After work, I come home and the house smells great. For the finale, add some chopped parsley and serve with a buttery baguette of course. If I feel like switching it up, adding chopped bok choy as you get home is a good idea with some ramen noodles and a splash of Worcestershire sauce." — Dan Ahwa, fashion and creative director
Share this: