Real Weddings: Leisha Jones & Malcolm Campbell In Hunua Falls
A school camp was the ideal location for Leisha and Malcolm's two-day wedding celebration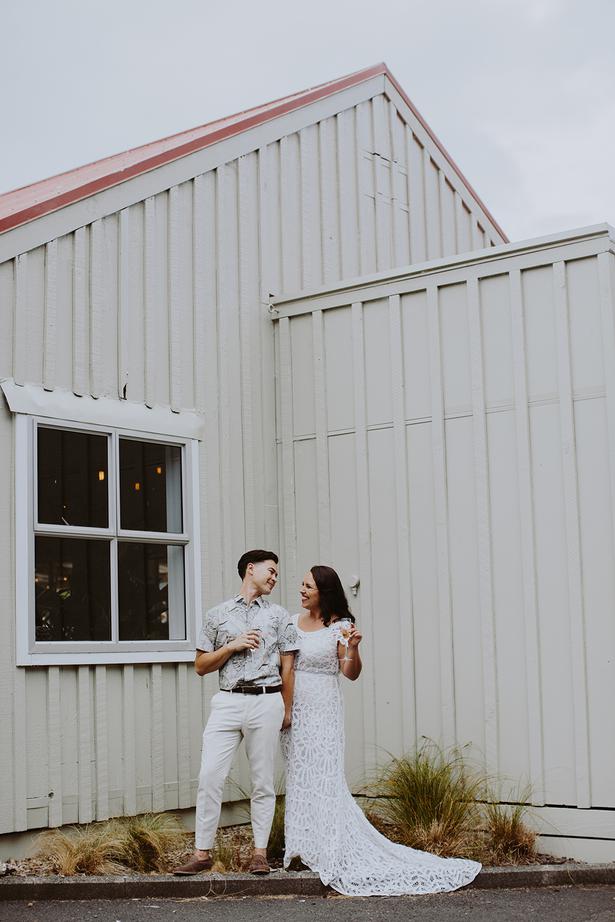 Saturday April 13, 2019
The Location
Leisha: The idea to get married at a school camp came first, then we just had to find one that felt right. When I visited Hunua Falls School Camp for the first time I thought it was a great blank canvas, surrounded by striking natural elements.
READ: Orphans Kitchen's Tom Hishon's Picturesque Queenstown Wedding
I loved the fact there was a big commercial kitchen we could use; an obstacle course and shed full of sports equipment for games; and it was only a short stroll through the forest to Hunua Falls.
A Two-Day Party
Every time we've been to a wedding we're disappointed when it's over. Most venues won't let you party past midnight, so instead of having to organise an after-party we thought 'why not just make it a giant sleepover?'.
It was so much fun having our friends and family sleep in dorm-style bunk-bed rooms, and waking up together to relive the night over coffee, croissants and mimosas before getting back into the beers. People went for walks to the falls, played basketball, and retreated to their cabins for afternoon naps. It was the greatest sleepover ever.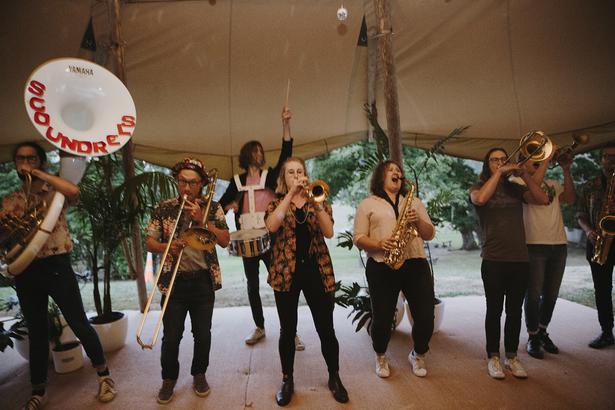 The Traditions
We have an 18-month-old daughter and both know she will bind us together for life far more than a marriage certificate. So for us, getting married was a celebration of our family and an excuse to throw a party, anything overly traditional or too formal felt unnatural to us.
READ: Model Georgia Pratt's Dreamy Matakana Wedding
We stayed together the night before and arrived at the venue together; Malcolm was in and out of the room while I was getting ready and we walked down the aisle hand in hand. We didn't have a bridal party; sat right in the middle of the room at dinner; didn't do a first dance; and for our gifts we asked that money be donated to KidsCan through The Good Registry.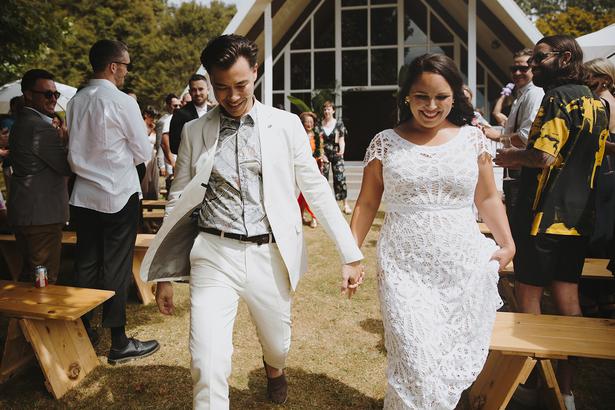 The Ceremony
I never thought I'd get married in a church, but when we saw the adorable triangle chapel at the camp we knew it was where we should get married. It had a 70s, Palm Springs vibe, which was a statement on its own without any decoration.
Standing in front of our friends and family was like a dream, it was still and peaceful and I felt an overwhelming sense of calm — largely thanks to the Champagne breakfast, I think.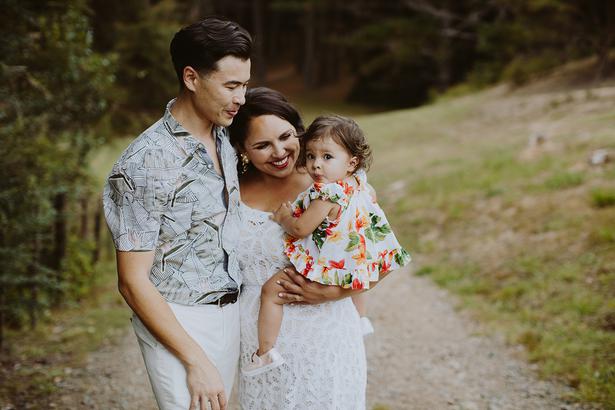 The Reception
The reception was so relaxed, people were sprawled on rugs on the grass and under trees. One of my favourite elements of the wedding was having a Brew Box with kegs of our favourite beer from Sawmill, Liberty and Hallertau flowing all weekend, and jugs people could fill up themselves.
We had a tepee for shade and shelter, and our friend, Cian O'Donnell, played music all afternoon. We served dinner in the camp dining hall, where we set up three long trestle tables.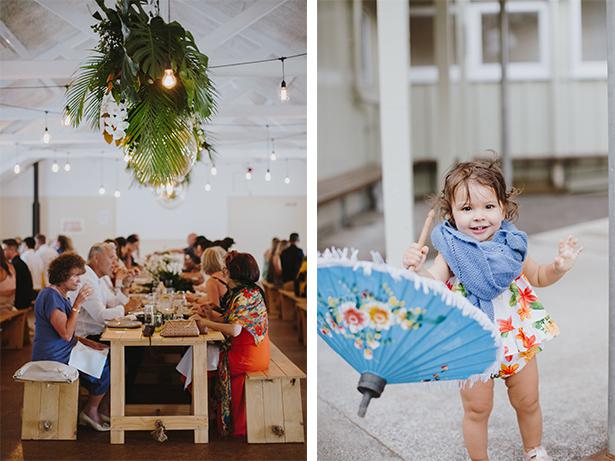 The Rings
Malcolm had my engagement ring designed at Zoe & Morgan, it's quite a statement made with a beautiful, big tourmaline. To me, it's a symbol of how well he knows me and understands my style. Malcolm had a brushed gold signet ring made, which mirrors the shape of my engagement ring.
The Dress
I was probably the most unorganised bride ever when it came to the dress. I had a full length Miss Crabb Rise dress made in cream lace, and also bought a sample dress from Rue De Seine.
READ: Designer Tanya Carlson On Creating A Bespoke Wedding Dress
I loved them both and didn't decide until the day before which one I would wear. Thanks to the weekend-long affair I got to wear them both.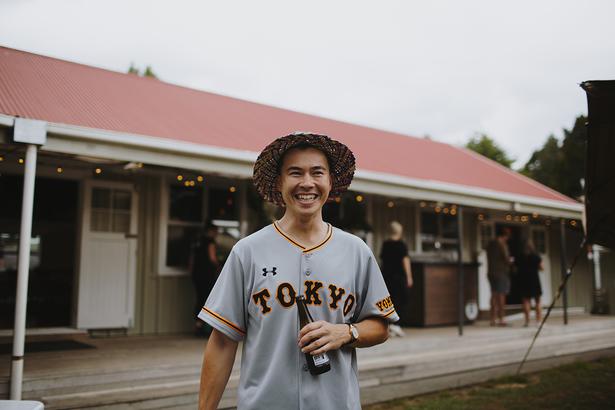 The Entertainment
After dinner, we had Auckland City Scoundrels — a New Orleans-style brass band — do a surprise performance. Nobody knew they were coming except Malcolm and I.
They came into the dining hall after dinner and led people out to the dance floor. Their energy is so infectious, it's impossible not to smile and dance. The speakers and turntables stayed at the venue all weekend and we had a few different friends and DJs playing music non-stop.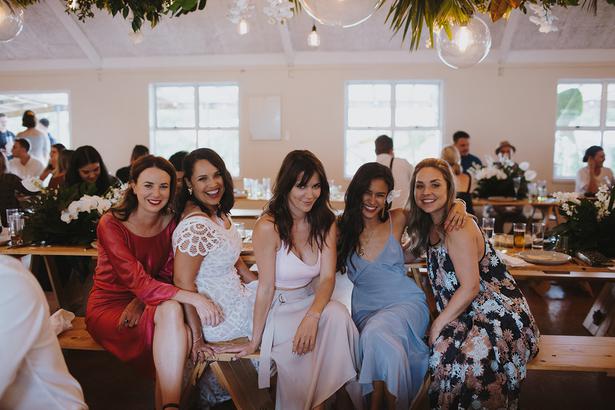 The Photos
Hannah was recommended to me as someone who could shoot candid snaps at our wedding. We hated the idea of spending hours posing with family members or having to leave the party to do a photo shoot.
READ: How To Look Good In Wedding Photos
She was so chilled out and so respectful of our wishes, she stayed for hours and caught so many heartfelt moments. One of my favourites is a close-up of my mum and dad linking fingers under the table during the speeches.
The Planning
I had a clear vision but needed somebody to pull it all together logistically. The self-catering aspect of the venue and the fact it was a blank canvas meant there was a lot to organise and it took a lot to transform it.
I also had some very specific requests, which I couldn't have orchestrated on my own — heaps of tiny disco balls hung from the ceiling of the tepee, for example. Our planner, Courtenay Powers, was so organised I felt completely relaxed leaving everything in her hands.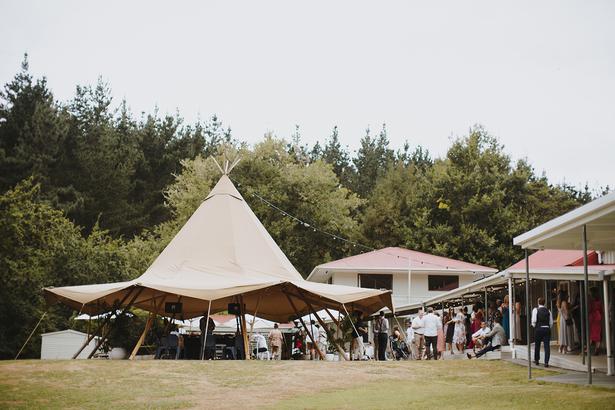 Favourite Memories
During the speeches Malcolm revealed that he had my name tattooed across his heart in his handwriting — a gesture that shocked and moved me.
On Sunday night, when everybody had gone to bed, Malcolm and I stayed up until dawn drinking jugs of beer and dancing to our favourite songs under the twinkling mini disco balls on the empty dancefloor.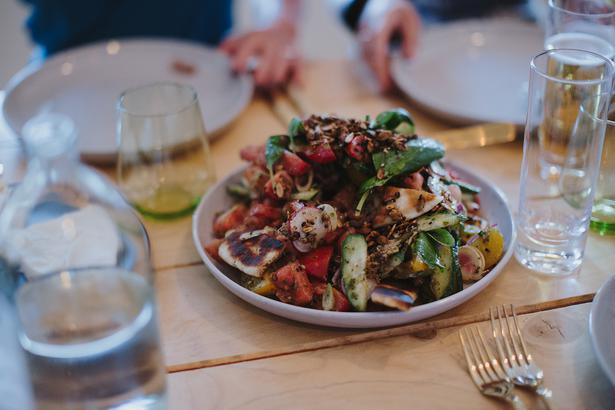 Fattoush salad from the Middle-Eastern menu crafted by Jess' Underground Kitchen. Photo / Hannah Beth Photography

The Food
Our lives and work revolve around food so it was the most important element. I love the generosity and relaxed style of Middle Eastern food, so designed my dream menu of shared dishes that were executed perfectly by Jess' Underground Kitchen. There was slow cooked lamb shoulder; salmon and labneh; fattoush salad; and a beautiful Persian wedding rice, which was studded with nuts, dried fruit and edible flowers.

The next day we had Crate Kitchen food truck serve everything you dream of when you're hungover: duck fat chips; toasted sammies; fish tacos and ice-cold cans of Karma Cola. Later that night I chucked on an apron and heated up the leftovers from Saturday night for people who were still around, as well as a giant tray of mac 'n cheese which Jess' Underground Kitchen had made. 

Some Advice
Try to enjoy the process of planning the wedding, because when it's over you will want to do it all over again. Don't stress or argue too much about the guest list, a few extra people won't make any difference at all, and you will be so loved up you won't even notice they are there.

Because I'm a control freak and love organising parties I worried about every little detail in the lead-up — I wish I hadn't wasted my energy because in the end everything was perfect.
Share this: