Designers In Lockdown: Catching Up With Wynn Crawshaw
Fashion designer Wynn Crawshaw of Wynn Hamlyn talks us through his fall 2020 collection and how he's staying motivated at home in lockdown in Te Puke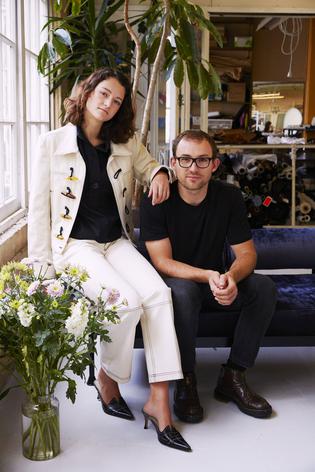 Wynn Crawshaw's womenswear label Wynn Hamlyn, has garnered a loyal following both locally and internationally since its debut in 2014. Known for its signature handwriting of crisp tailoring and languid dresses that focus on the contemporary womenswear market, the 29-year old designer is one of the country's brightest design talents, picking strong retail accounts in the process both locally and internationally.
READ: Meet My Muse — Designer Wynn Crawshaw
Overseas, the Wynn Hamlyn label counts some of the world's most influential stockists as clients including Moda Operandi, Harvey Nichols Hong Kong, Bloomingdales in Kuwait and closer to home, department store behemoth David Jones.
As brands hunker down in lockdown and figure out how to respond at a time when retail has been affected by Covid-19, Wynn reflects on what this period means for him, both professionally and personally, speaking with us via Instagram Live from his family home in Te Puke. 
"We had already done a lot of that preparation in the sense that we have some members in the team who have family members who are immune compromised already, so we had already sorted things out; we made sure everything for work was on Dropbox already and made sure people could easily work remotely."
GALLERY: Backstage At Wynn Hamlyn's NZFW Show 2018
"We've been fortunate in the sense the cycle of where we are at with collections means we are not too physically orientated in terms of making. We've been closing orders and starting the next season, which is all done digitally."
As designers are looking at how they continue to ship, Wynn wants to ensure that any offering is correctly considered essential. "At the moment I have applied for clearance, but am unsure whether we will go ahead in terms of whether we have got an offering I would consider as essential. That's something I'm thinking about right now."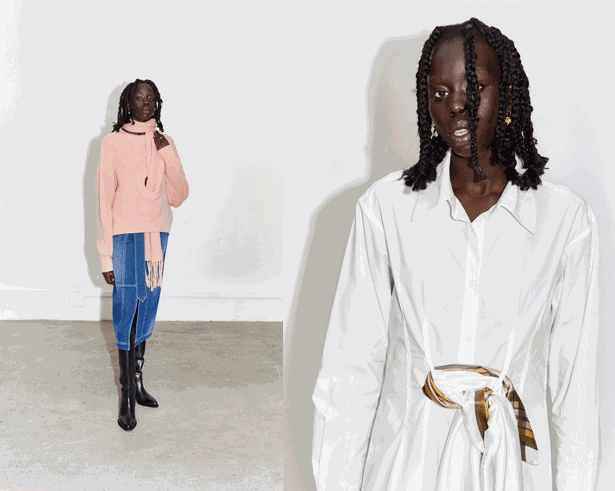 Keeping both morale and business afloat is a challenge for many, but keeping an on-going dialogue with customers and key stockists is key.
"We've been keeping in touch quite regularly and talking about the potential for when the next delivery is going to come. Prior to this lockdown we delivered a collection, and as this lockdown comes to a close, we'll be trying to sort the next delivery out. There's the potential for the clothes to have sold far less, so we're looking at later delivery dates."
His forthcoming collection in June is one that showcases the designer's evolution, working with local jeweller Maeve Woodhouse and her jewellery brand Hera Saabi on sculptural adornments that are part of select pieces from the collection.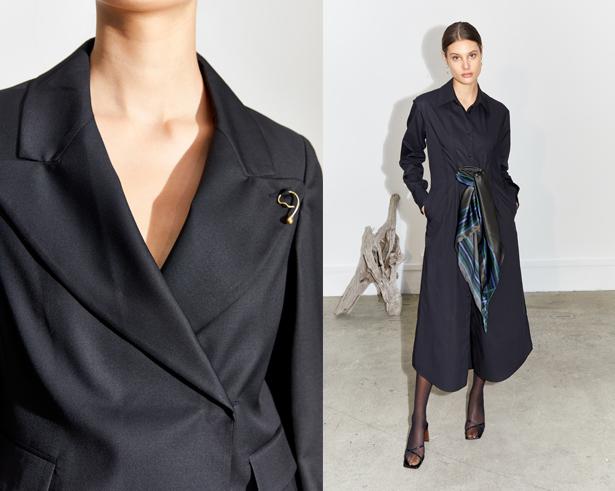 "It's loosely influenced by fishing and nautical references," says Wynn "and working with Maeve is one of the coolest things I've had the chance to do. It came about when I was trying to incorporate elements of metal into the clothing — some people know me as a D.I Yer, but I'm terrible at it," Wynn says laughing.
"So I looked at Maeve's work and looked at her pieces and thought 'this is incredible'. I thought if there was some way I could incorporate her talent, it would make the collection explode. She was keen, and it went from there."
"I guess for me it's quite innovative and different to anything I've seen. The way we've incorporated these elements of jewellery with the clothing was really tough in terms of making that functional, so we needed to make it more removable so people could still dry-clean pieces. Overall the collaboration adds another dimension."
Key pieces include Wynn's knitwear too — a key part of the brand's DNA. "One of my favourite pieces is called the portal sweater, which has a circular hole in the middle. That came from a lot of our stores who were interested in what we've been doing with the functionality of previous pieces, particularly with scarves, and how we use them as belts and intertwine them with garments. So we wanted to incorporate the idea of an attachment that weaves its way through a garment."
READ: Wynn Hamlyn Designer Wynn Crawshaw's Favourite Things
While conversations last year around menswear looked promising, given current circumstances those plans are on hold for now. "Basically the menswear would have been perfect to launch for men's week in June. With that not going ahead, and the thought of launching something new when it's really just the case of most stores picking up a few bits and pieces they can do well with online, timing wasn't right.
THROW BACK: Wynn Hamlyn NZFW 2018 Show Review
"I am also looking forward to the end of the lockdown, and looking globally at what will happen with the resort 2021 market, because that will be in June, and so far it's looking like there will be no Fashion Week. I hope there will be some semblance of selling collections virtually, so we are preparing for that."
In the meantime, downtime on the farm is an opportunity to take time out. "Like most people, I'm watching Tiger King on Netflix. Aside from the obvious animal cruelty, which is not cool, I just can't help but really enjoy Joe Exotic as a person. He's cool aesthetically and his charisma is pretty sick.
"I am listening to some good albums and trying to get up in the morning and keep to a routine, stay social. I'm really bad with the phone, emails, etc but I am quite social, so I have really had to start grabbing the phone, which is out of character for me."
Share this: