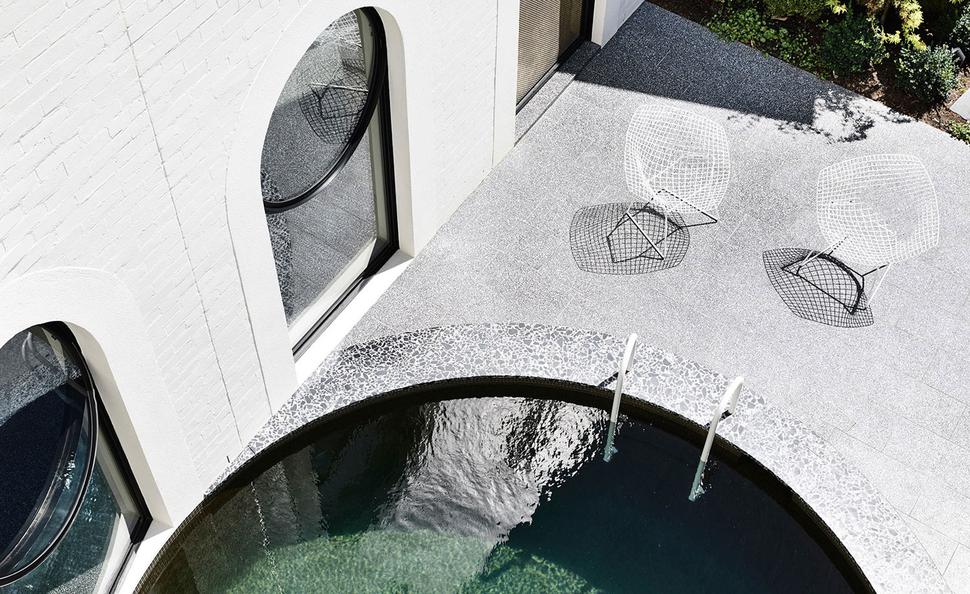 A New Zealand Couple's Award-Winning Melbourne Home Is A Design Masterpiece
Jonathan and Sheree Burge talk to Johanna Thornton about their dream home and its unique mix of Edwardian and contemporary design elements
Wednesday May 27, 2020
"We can't watch Grand Designs anymore. It makes us instantly nauseous," jokes Jonathan Burge about the process he and wife Sheree went through in building their architecturally designed home in inner Melbourne.
Although the outlandish homes on the popular television show tend to have finicky owners with endless design criteria, Jonathan and Sheree were decidedly less prescriptive when it came to their home. The resulting design, however, is nonetheless screen-worthy, winning five prestigious awards last year including the Australian National Architecture Award for best house, and the Victorian Architecture Awards for best house.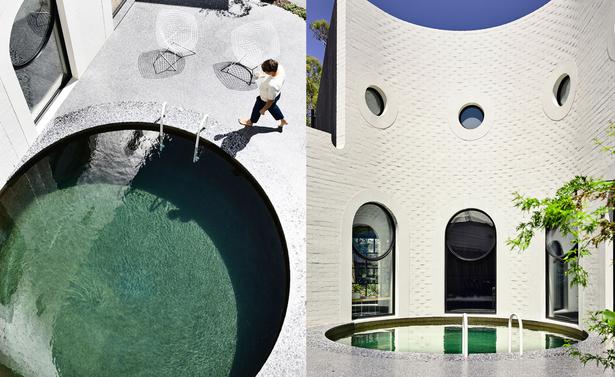 Their brief to architects Patrick Kennedy and Rachael Nolan, of Kennedy Nolan, was for something expressive and memorable. Having both grown up in coastal Auckland, an element of water was key. They wanted an alteration and addition to their original 1908 weatherboard Edwardian home that included "a body of water" to be enjoyed year-round and a home that was artistically beautiful but could withstand the knocks of everyday living for their family of five. Something that was original and robust. "We gave them a pretty loose rein, I suppose," says Jonathan.
READ: Inside The Award-Winning Campbell Courtyard House In Freemans Bay
What Patrick and Rachael eventually came back with left them speechless. Jonathan recalls the moment they sat down together to discuss their plans: "They said to us, 'Every now and then as a practice, you up your game and throw something out there, and we've decided to do that with you guys'. We thought they might have come up with a concept drawing, but it was actually the design of our house. It was completely different to what we were expecting. We were speechless."
READ: A Visit To One Of Palm Springs' Most Interesting Homes, The Frey House
The plans depicted an unapologetically contemporary new addition separated from the original building by an internal courtyard with a circular swimming pool. A striking two-storey curved brick wall wrapped around the pool, enclosing a new pavilion with an open-plan kitchen, dining and living area leading on to a south-facing garden, and a master bedroom, en suite and office upstairs. It was a beautiful sculptural response the architects describe as "poetic and evocative" and "very much generated by Sheree and Jonathan", says Patrick.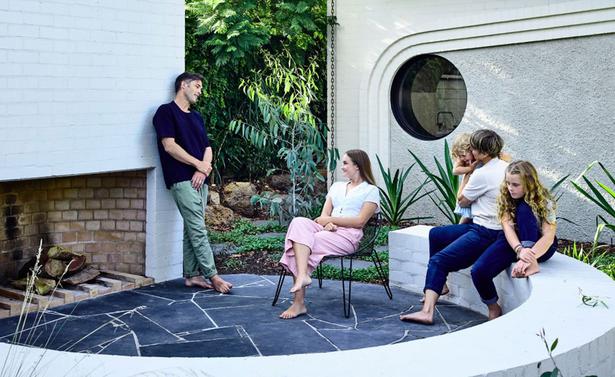 Sheree and Jonathan, who had admired the work of Kennedy Nolan for some time and approached them soon after their arrival in Melbourne in 2013, didn't take long to approve. "We went back and said 'we love it' and it went from there."
Jonathan, who is section chief of craniofacial surgery at the Royal Children's Hospital, grew up in Howick, and Sheree, a trained nurse, in Torbay. This is their first home, having moved almost every year for Jonathan's training, including to Toronto and India, before moving to Melbourne for his current role. They weren't in a rush to build.
"We wanted to live in the house and see how it works and see the light during the day and how all the rooms worked," says Jonathan. The original three-bedroom weatherboard home reminded them of a villa in Grey Lynn or Ponsonby, but it needed work. It was dark, and an alteration added in the 80s wasn't to their taste. They also had two young girls, Gracie and Tilda, and would find out they were having a third, Ivy, halfway through the design process.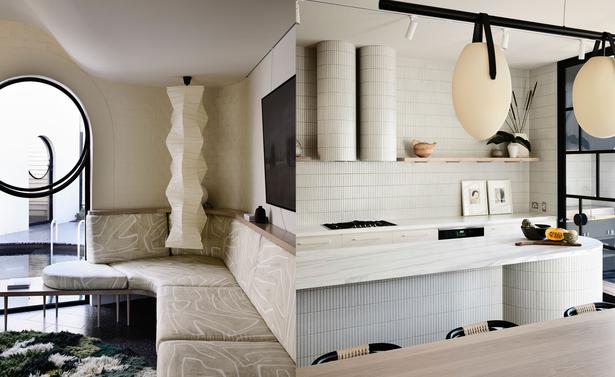 Any alteration of the original dwelling had to adhere to strict heritage overlays, meaning the design had to respect its Edwardian features and be carried out in a manner appropriate to its character and form. As a result, it's been restored and reconfigured rather than overhauled, with a bathroom removed to make way for an extra bedroom for Ivy, an office turned into a TV room and the two front rooms are now bedrooms for Gracie and Tilda.
The connection between the older part of the home and the new isn't laboured, with the new pavilion "visually distinct" from its older counterpart. "It's a very Melbourne thing to say the era of the architecture is the era of the architecture, so don't try to reproduce an era gone," says Jonathan. "You just respect it and do what you do to it but there's no attempt to make it part of the new building." Instead, the two are connected through complementary finishings, colours and textures.
READ: Waiheke's Lantern House Is The Perfect Respite From Modern Life
"The key is making a relationship between two expressions so that it's not a contest or appears discordant," says Patrick. He found the original building rich with inspiration, which is reflected in the new build through complex curves, textured wall planes and windows that emphasize geometry and detail. "If you use these principles in generating contemporary work then it's possible to have distinct expressions that talk to each other and feel comfortable in each other's presence," he says.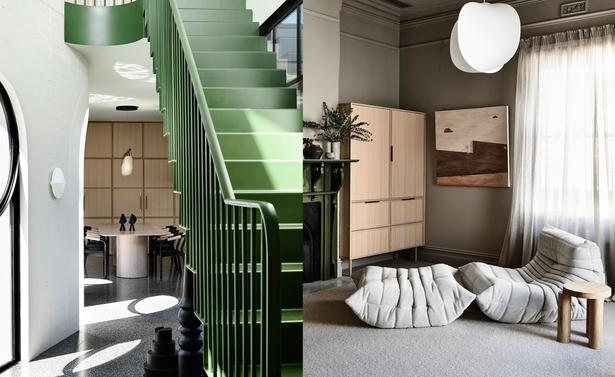 Anchoring the design is the pool, the body of water that was crucial to Sheree and Jonathan from the outset. "The most fundamental element of the brief is probably the swimming pool," says Patrick. The pool challenges the notions of a regular swimming pool - "it is round, it is compact, it is deep, it is dark. The pool is imagined for year-round use, swimming in summer, a dark pond reflecting the facade in winter. The proximity of water to the interior is immediate and dramatic, with the sense that the edge of the building plunges into a deep pool."
And that's exactly how it functions, says Jonathan. It's calm and peaceful, especially in winter, with its deep green Japanese tiles gleaming in the sunlight. The surface of the water reflects on to the roof year-round, "so inside you get this beautiful shimmering of the pool". It's visible from many of the interior rooms, the daybed in the living room being a favourite spot from which to admire the water with a cup of coffee.
READ: How The Bauhaus Movement Changed New Zealand Design
The circular form of the pool is also reflected in the geometry of the new build. There are curves everywhere, from the sweeping curved brick wall framing the pool, to the round courtyard with outdoor fireplace/pizza oven. Circular steel-framed windows and portholes upstairs cast circles of sunlight and shadow on the terrazzo-tiled floors.
There are curved undulating partitions in the bathroom, and curved interior walls, a result of the exterior wall bending its way around the pool. "The principal curved wall allows for a layered and nuanced interior and a dramatic and compelling exterior space," says Patrick. Indeed there are hardly any hard edges in this home, in contrast to the rectilinear plan of the existing house, something Patrick refers to as "an eccentric formal quality".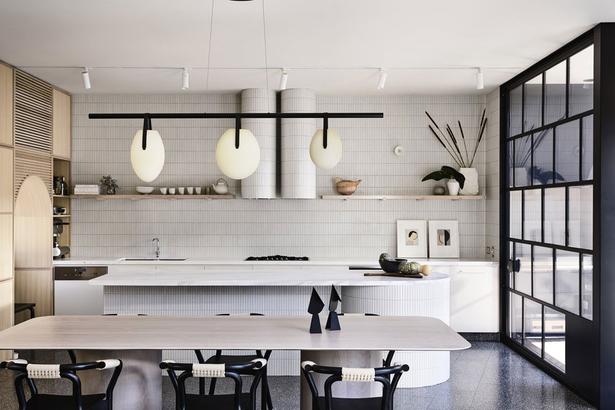 For the interior finishes, Jonathan and Sheree were drawn to a Scandinavian and Japanese aesthetic, which has been interpreted beautifully throughout. In the kitchen, Japanese Nagoya Mosaic "Kayoborder" finger mosaics line the walls and kitchen island, offset by a custom table and joinery in Victorian ash by builder Overend Constructions.
"The builder, Chris Overend, was an amazing craftsman and he had a big say in various things," says Jonathan. The slow curvature of the roof is one of Chris' thoughtful additions. "It looks like a beautiful wave form in the roof in the corner of the lounge - all of these little tweaks are fully appreciated by Sheree and I."
READ: Inside The Minimalist London Home Of Kowtow Founder Gosia Piatek
A standout inside is the forest-green steel staircase, which was originally going to be black. "Sheree chose the green," says Jonathan. "[The architects] had been pushing for a colour steel staircase the whole way. It was a fantastic thing to do, it's amazing. It feels like a bit of greenery inside."
It's these gentle nudges along the way that have resulted in an award-winning and truly memorable home. Jonathan says it came down to trust. "When you're working with someone whose judgment you can trust, it's a lot easier. One of the things that was really important to us was having that good relationship and journey with the builders and architects because, at the end of the day, you're living in something they've designed and built.
"There's nothing we'd do differently."
Share this: