The Spirited Makers Behind New Zealand's Most Innovative Craft Distilleries
New Zealand is renowned for its fine wine and craft beer, and now craft spirits are on the rise too. Sarah Downs chats to a passionate bunch of trailblazing distillers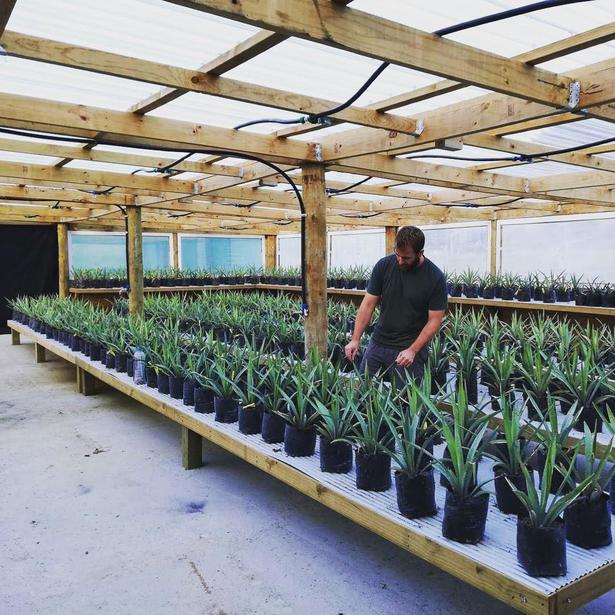 Monday June 10, 2019
Kiwi Spirit Distillery, Golden Bay
You'd normally find blue agave plants grown for tequila on the dry hillsides of Mexico, but a Golden Bay distillery is proving it's worth taking a shot at it here too.
Terry Knight and partner Rachel Raine are making New Zealand's first blue agave tequila spirit, which is the first venture of its kind outside Mexico.
He can't of course legally call it "Tequila" — the word is protected by the Mexican government and can be used only in Mexico — so it's been named TeKiwi 100% Blue Agave Spirit.
Growing his own tequila was born out of a pact between Terry and an old friend who had imported the seeds about 18 years ago. Terry bought the plants before his friend died.
READ: Discover The Auckland Restaurants Who Are Redefining Luxury As Locally Grown
"Since then I've just been trying to get them to grow. There's nobody here to tell you what to do," he says.
The seeds originally came to New Zealand from a private plant collector in France, and later had to be sprouted open in a warm oven used to replicate Mexico's climate. Today things are easier, using tissue culture methods to build up plantations on their 10ha estate.
Once growing, the plants are low-maintenance.
"We don't water or fertilise them. Right through the drought they boomed and survived in frost," he says.
To harvest, Terry uses a chainsaw to cut off the spiky leaves revealing the hard pineapple-like heart of the plant. The hearts are then steam-cooked for three days.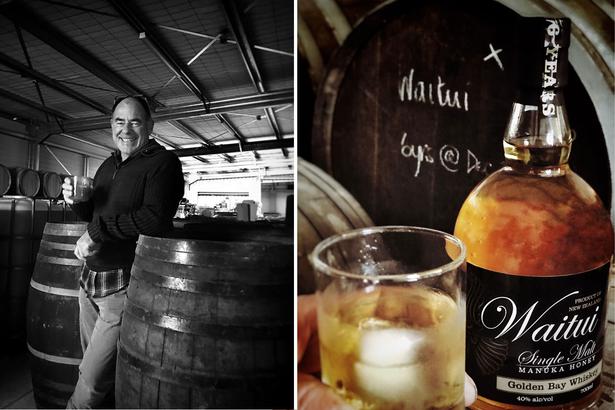 (From left) Terry Knight; Waitui Whiskey. Photo / Fiona Whiting

"Then we crush it in a garden mulcher and then it goes into a wringer washing machine to break the fibres to get the juice."

The juice is then cooked into a mash which is brewed and distilled. The end result is a tequila, 40 per cent alcohol by volume. "It's a sipping tequila," says Terry. "You don't add salt or lime, you sip it straight, like a brandy."

He says New Zealand's richer soils make the drink palatable on its own.

"We are growing at sea level versus the high-altitude volcanic soils of Mexico. There's a harshness to those soils where ours more loamy and soft."

The tequila is just one of the drinks Terry and Rachel make at the distillery using home-grown produce and honey from their beehives.

READ: Meet The Passionate Personalities Behind Auckland's Artisanal Offerings

The couple bought a former winery on Abel Tasman Drive after selling their Schnapp Dragon Village Distillery in Takaka in 2016. Key to the range's expansion was the recruitment of Sue Bensemann as their distillery manager, one of the country's first female distillers and an expert in innovative flavours.

Terry had founded the famous Awaroa Lodge eco-resort in the early 1990s before moving into making honey mead and honey bubbly. He still uses honey for their Waitui single malt whiskey which is produced alongside gins, fruit liqueurs and health tonics. Another product is their award-winning Jiu Jiu 50 per cent vodka which has 22.5-carat gold cut in the shape of 8s and 9s, lucky numbers for Chinese. It's been pre-sold and being shipped to Hong Kong and America.

"It's about stabilising where we're at now," says Terry.

"As Sue says 'no more ideas'. Truly if you looked in our cupboards we've got at least 10 different liquors and various versions of my whiskeys on the go."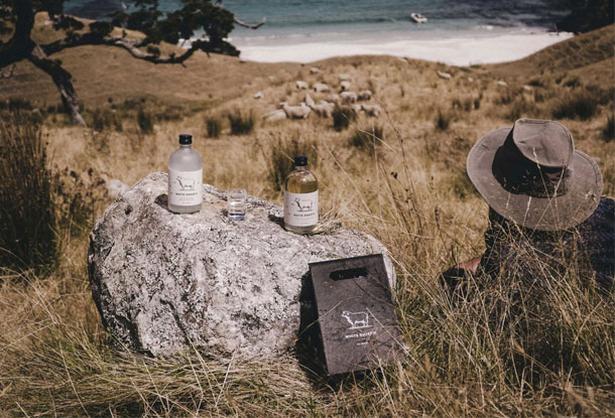 The White Sheep Co., Tauranga
If we're talking Kiwi ingenuity, Whangamata local Sam Brown's idea of a sheep milk spirit is a winner. Sam says the b-ewe-tiful moment (he didn't really) came to him when out having a drink with friends four years ago.
"I was living overseas at the time and we decided to have a toast for each of our countries. We had some tequila from Mexico, whisky from Scotland and brandy from France, and then it got to me and I just drew a blank, there wasn't a spirit that represented New Zealand to that same level."
READ: Why Hemp-Based Food Is On The Rise In New Zealand
He considered other options, such as using native plants or trees, but decided that sheep were better known internationally.
"Obviously everybody knows us for sheep, especially overseas. I then found out how fast our sheep milk industry is growing."
With no previous background in farming, Sam spent months researching the distilling process. He then approached Massey University in Palmerston North and spent eight months with the university nailing down the science.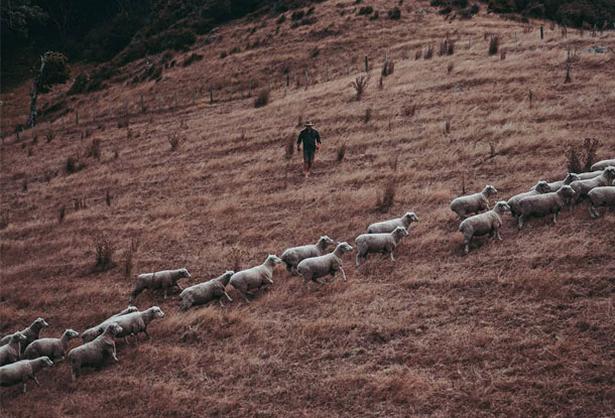 Turning sheep milk into alcohol is a "complex process" and more involved than a conventional spirit. One batch takes around 12 days. "To convert the sugars from sheep's milk, you have to use special yeast to ferment and treat them well," he says.
White Sheep Co. is made in Tauranga and launched this January with a gin, vodka and cream liqueur. Sam says it would have been sooner but wanted to keep full ownership of the company. "I thought it would be better if I did it all myself. It's slowed things down but I've learned a lot along the way."
He says the main reaction to the spirits has been curiosity. "Not only about what it tastes like but how it's made because it's pretty unique."
The spirits use sheep milk sourced from the North Island and while distilled clear are described as having "quite a sheep milk aroma and taste".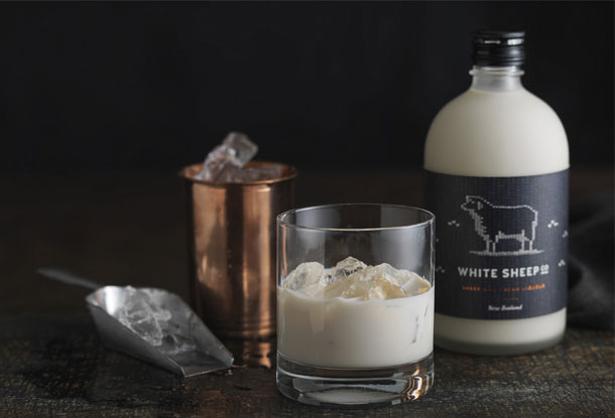 The vodka is stronger in sheep milk flavour while the gin is "more delicate" with the sweetness from manuka honey and botanicals, and is the bestselling product. The vodka won a gold medal at the NZ Spirits Awards this year.
Sam is marketing White Sheep Co. towards tourists in New Zealand. "They want unique Kiwi products such as honey that can't be bought elsewhere. Going on holiday around New Zealand you're likely to see sheep so it has that connection."
READ: The Ginaissance: How Gin Went From Old-Fashioned To On-Trend
The spirits are currently only sold in New Zealand (soon to be in duty-free) but Sam is preparing to export product to Asia in time for the Rugby World Cup later this year.
"It's exciting to get it out there and for it to be such a talking point product.
"The long-term goal is for the drink to have the same recognition that tequila has to Mexico. I think it's about time New Zealand had its own unique spirit."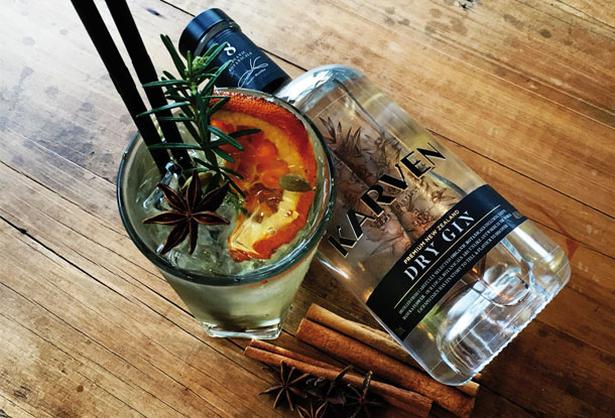 Karven Craft Distiller, Riverhead
Karven Craft Distiller had a roaring start to life for owners Stephen Menzies and Simon Redpath — well almost. The friends were sitting around a bonfire made from a demolished wooden glass house on the family farm in Riverhead, North of Auckland, when the idea for a range of New Zealand-inspired spirits came about.
"We realised the property had all these mature citrus trees and its own natural water supply," says Stephen.
READ: What You Need To Know About Natural Wine & Why You Should Try It
"It was the perfect spot for native and New Zealand ingredients which Karven is about making the most of."
Three years later and Karven has won multiple international awards for their handcrafted spirits which are developed with the help of master distiller Alex Kirichuk in Puhoi.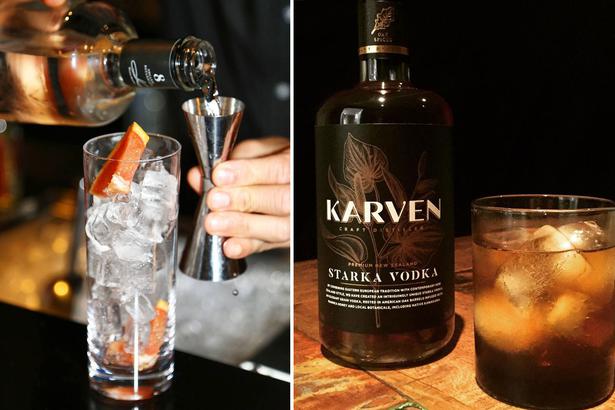 The guys say the name sums up the brand. "We're small and everything's done by hand and it ties back to our landscape. New Zealand has been carved out by glaciers over millions of years and given rise to a broad range of distinctive botanicals."
They started with gin — an "obvious choice" to showcase botanicals — which uses ingredients grown around the distillery and is the best seller.
Stephen says the flooded market for the popular spirit then stretched them elsewhere, adding a Rosso and Bianco vermouth along with absinthe using native kumarahou.
Their Starka vodka follows European tradition but gives a Kiwi twist of kawakawa and manuka honey. It's then aged in American oak barrel giving the vodka a distinct brownish colour and depth of flavour. They recommend having it neat, or as a Starka Mule cocktail with gingerbeer, lime and mint. "At events it generally outperforms the gin cocktail. It's a really refreshing drink."
Waiheke Imperial, Waiheke
Waters, water right? Not if you ask Waiheke Island business owner and local Jesse Ball.
He owns two companies — bottled water and spirits — that use water drawn from an aquifer below the island, naturally alkaline and dated to 150 years old. Last month, his Waiheke Water won four awards at Berkeley Springs International Water Tasting, the world's most prestigious water competition.
"One of the key things is our water. It's very soft with the ability to take in more flavour and ingredients. A Ph test of the water will go green whereas most waters go red so technically at a base level it's different water," says Jesse. 
The water-based venture is something of a knock on 'Waihitian' effect, following a move to the island with his then-girlfriend (now wife to three kids) after 18 years working in a software company.
READ: Waiheke Island's Characters of Wine
"I went fishing for a couple of years and got a little bored. After travelling and meeting in restaurants around the world one of the things that perked my interest was water. Why would someone pay up to 10 dollars for a bottle of water or 49 cents and what's the difference between it? Being on the island there wasn't a lot of water that was geographically specific or from a single malt distillery and that stood out," he says.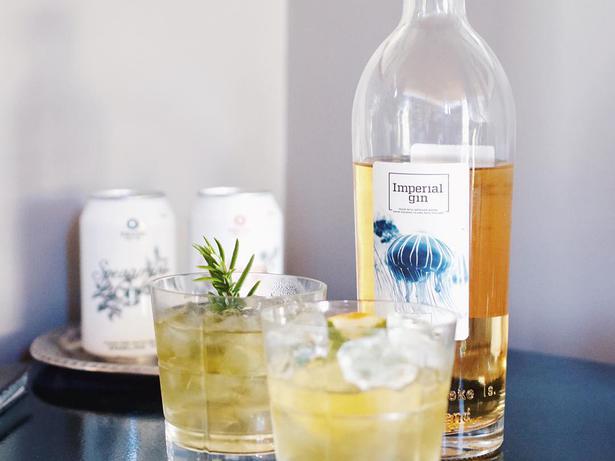 That idea was enough to purchase an existing water business in 2015, with the idea to also make spirits. Jesse was a year and a half into the development when a devastating flood hit the island in March 2017.
"It essentially wiped out the business out overnight. We had to look at what was worth putting effort and cash into. One of the virtues of luck we had almost 200,000 dollars of spirits sitting in airtight barrels. It was a pretty good motivation to get those bottles nailed," he says.
Waiheke Water currently sells 100,000 litres of the purified water a day which makes the base of the small spirit range. 
READ: Fragrances Inspired By Your Favourite Drink
The gin uses locally harvested kawakawa, manuka honey, and Jesse's 'secret ingredient', a native New Zealand flower with a quinine-like flavour that only blooms for a few months of the year. The Waiheke Imperial Gin won a Cuisine Artisan award in 2018.
There's also a spiced rum and bee tonic made with bee venom, manuka honey, propolis, pollen, and a hint of chilli. The "velvety, honey tasting liquor" was designed as a tester for the international market and can be sipped on its own, or Jesse's preference,  "I like it over ice-cream but I'm not any measure of a connoisseur".
Jesse plans on making the business more sustainable and hopes to have solar in the factory by next year.
Share this:
More Food & Drink / Wine & Drink