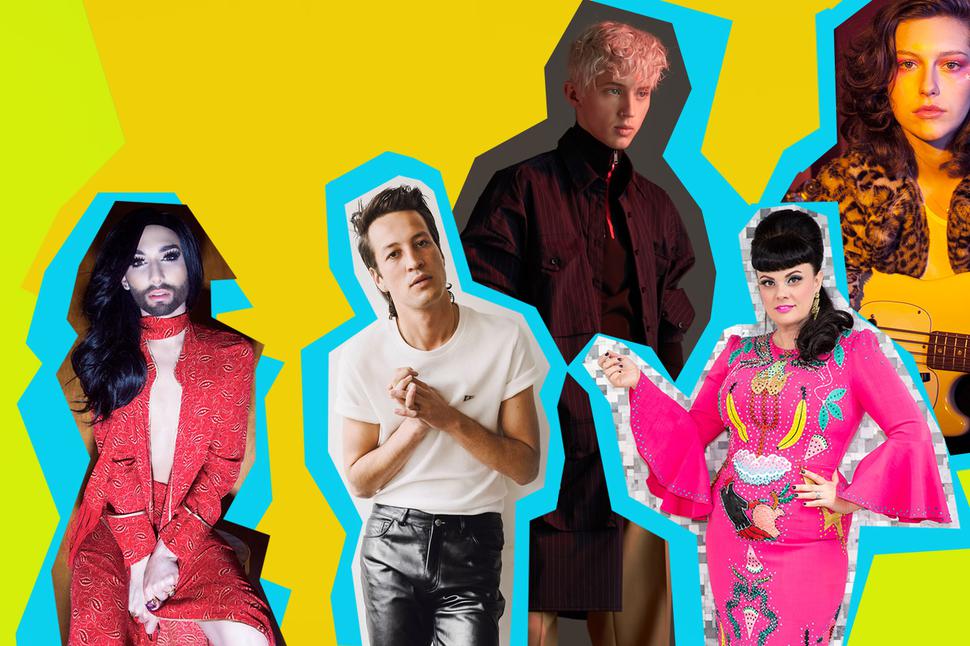 From The Viva Archives: Pearls Of Wisdom From Musicians
We highlight musicians we've spoken to over the years who've imparted some insightful thoughts
Tuesday Oct. 15, 2019
Musicians are a unique breed of people.
Talented and creative, it's not unusual to discover they're also clever wordsmiths and poets (especially the songwriters), who view the world with an individual point of view.
Over the years, we've been lucky enough to meet some of the brightest names in music, from international heavyweights to some of our best-loved local acts. 
Here are some of our favourites:
"I'm getting more comfortable with trying. It sounds really basic, but sitting down and going 'Okay, don't freak out, don't stress. Just do your job'."
- Marlon Williams
READ: The Inimitable Marlon Williams On His Mercurial Year
"I find it too difficult to talk to people about stuff I'm going through, but music is my outlet. Once a song is out it's like a big weight off my shoulders and I can let those feelings go. If I'm able to help someone else through something it's an amazing feeling."
- Teeks
READ: Rising Star Teeks Ahead Of His First Headline Performance
"I want to be seen as a gay person, but I also want to be seen as a talented musician. Right now, we're not in a place where we can say gender or sexuality doesn't matter. The industry is getting there but until we are I'm proud to be representing the gay community. If that needs to be loud and proud and talked about all the time, I'm down."
- King Princess
READ: Meet King Princess, Pop Music's New Queer Icon
 "There's fear of confronting ideas and of looking at the world from different angles. We have to walk in someone else's shoes to get a better picture of the world and move forward."
- Julia Deans
READ: Favourite Things: Singer-Songwriter Julia Deans
"I feel liberated as an artist. There's power in living openly and honestly while being gay. It's also as simple as I'm just trying to tell my story and what's real to me."
- Troye Sivan

READ: Pop Superstar Troye Sivan On His Rise To Fame, Coming Out & New Album 'Bloom'
 "When I perform it's sometimes not even about the words I'm singing. It's letting other women and mums see that they can follow their passion or do whatever it is that makes them feel alive. You don't have to lose that in a society that still very much expects you to."
- Tami Neilson
READ: Soul Singer Tami Neilson On Carving Her Own Career Path & New Album
"I think at the end of the day everybody has gone through some kind of heartache. Everybody knows that feeling and everyone channels into it. That's where you know you get the good stuff."
- Mark Ronson
READ: Meeting Mark Ronson, One Of Pop Music's Most Sought After Super-Producers
"It's okay to not be perfect, to admit when we need help. It can be tough out there! So many people, including some very close to me, have suffered from depression, anxiety, addiction and/or have been caught in cycles of destructive behaviour at some stage. The best thing that you can do in those situations is to talk to someone about it, whether it's a friend, family member or maybe even a doctor/health professional/community group, etc. Don't carry the weight of the world on your shoulders, there are people out there who care and who can help you get things back on track."
- Ned Ngatae, The Black Seeds
READ: Best Buddies: Daniel Weetman and Ned Ngatae
"This is the first time in the creative industry in a long time where it's all about being yourself and being aware of who you are. So whatever you are and feel inside is cool. It's not so much about fitting into the mould, it's about discovering who you are". 
- Soraya La Pread
READ: Soraya La Pread On Her Approach to Music, Personal Style & Creativity
"If all the right ingredients are there I can get to this place. Music makes me a better person. It helps me understand the world and myself."
- Nadia Reed
READ: The Quiet Achiever Nadia Reed
"I made the decision years ago not to focus on negativity especially when it's about me. If there is negativity towards the LBGT community, of course, I do care, but if it's just me receiving negativity I couldn't care less."
- Conchita Wurst
READ: Glamour Ambassador Conchita Wurst
"I often find beauty in bad taste and imperfection over something that has had all the edges smoothed out."
- Matthew Young
READ: Favourite Things: Musician Matthew Young
Share this: